Pricier US Ethane Squeezes Asia Petchems Makers
by Bloomberg
|
Saket Sundria & Debjit Chakraborty
|
Wednesday, July 01, 2020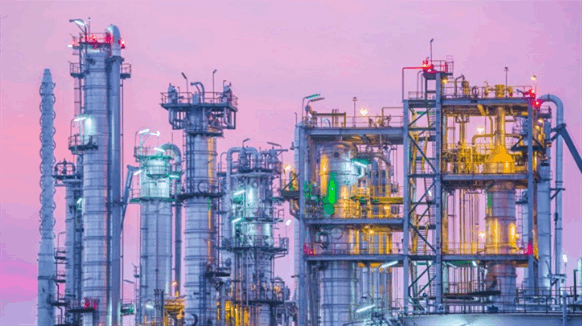 Petrochemicals manufacturers such as Reliance Industries and SP Chemicals face squeezed margins from pricier raw materials as shale supplies plummet.
(Bloomberg) -- Across Asia's fastest-growing economies, companies that pumped billions of dollars into facilities to handle and convert a natural gas by-product into plastics have been licking their wounds after a surge in the cost of feedstock from U.S. shale fields.
Some of the region's top petrochemical makers including Reliance Industries Ltd. and SP Chemicals Holdings Ltd., which invested in specialized infrastructure to turn ethane into ethylene, are now faced with squeezed margins from pricier raw materials as shale supplies plummet amid drilling cutbacks and threats of bankruptcies.
The multi-billion dollar investments in countries such as India and China were premised on the shale boom keeping ethane supplies abundant and cheap, allowing Asian processors to undercut rivals using more expensive oil-based naphtha. Instead, ethane has risen this year as supplies shrink and demand from new U.S. plants grows, while oil's crash has cut benchmark naphtha prices in Asia by 35% compared with the end of last year.
In a sign of mounting troubles for U.S. shale, Royal Dutch Shell Plc said its upstream unit will suffer a loss in the second quarter and take an impairment charge of $4 billion to $6 billion, mostly from North American shale and Brazilian assets.
Higher U.S. ethane prices alter the economics of the feedstock shipped by Asian plants, said Kelly Cui, principal analyst for petrochemicals at consultant Wood Mackenzie Ltd. "We expect ethane prices to continue to trade higher to gas. This will lift the ethane cracker cost in Asia."
Star Molecule
For more than a century, ethane was a little-noted molecule that could be produced in small amounts in oil refineries and transformed in plants known as crackers to make ethylene, a building block for everything from plastic bags to bulletproof vests.
Ethane's star began to rise in the last decade, when shale drillers realized the oil and natural gas wells they were drilling also spewed out gouts of the hydrocarbon. Production of natural gas liquids, including ethane, propane and butane, have soared to more than 5 million barrels a day in the U.S. from less than 2 million at the start of 2010.
Chemical companies jumped on the bonanza, investing $185 billion in new processing facilities in places like Texas and Louisiana, while also building export docks that would chill the fuel to a liquid and send it on boats to Asia and Europe, where ethylene is typically made from cracking naphtha.
Reliance invested more than $1.6 billion to start processing U.S. ethane in 2017, making it the first company in Asia to start using the feedstock. SP Chemicals started last year in China. Globally, ethane accounts for almost 40% of ethylene produced.
Long-term Gains
Reliance had enjoyed the ethane advantage over the last two years when crude prices were higher, but this "has faded on lower crude prices," Pinakin Parekh, an analyst at J.P. Morgan, said in a June 17 report.
Still, more ethane-based crackers are being built and developed in China. Zhejiang Satellite Petrochemical Co. is setting up an ethane cracker complex in eastern China. The first 1.25 million ton a year capacity cracker is expected to start operations in the first quarter of 2021 and another of similar size is scheduled for 2022.
Cui expects U.S. benchmark ethane prices in Mont Belvieu to average almost 20 cents a gallon this year and 25.7 cents in 2021. Production of natural gas liquids, including ethane, is expected to drop this year but may bounce back though not fully recover in 2021, she said.
1
2
View Full Article
Generated by readers, the comments included herein do not reflect the views and opinions of Rigzone. All comments are subject to editorial review. Off-topic, inappropriate or insulting comments will be removed.