OPEC-Russia Inch Toward Output Cuts
by Bloomberg
|
James Herron
|
Tuesday, December 04, 2018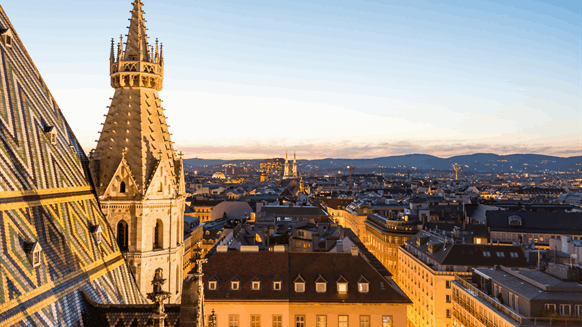 OPEC and its allies gather in Vienna this week to discuss production cuts.
(Bloomberg) -- OPEC and its allies gather in Vienna this week to discuss production cuts after the biggest monthly drop in oil prices in a decade.
They have the broad outlines of a deal after Russia and Saudi Arabia agreed over the weekend to extend their cooperation into 2019, but details are lacking. Whether the group brings about the end of the oil rout will depend on the size of any cut, how clearly it's communicated and whether members follow through on what they've promised.
Here are some possible outcomes:
A Big Cut
The Organization of Petroleum Exporting Countries has already told us how much they'd need to curb production to avoid a glut: 1.3 million barrels a day from October levels. A reduction on that scale would certainly change the dynamics of the market, eliminating most of the anticipated inventory buildup next year.
The group would need to haggle over how that reduction would be shared out, but it would hardly be an unprecedented step. They agreed a larger production cut in 2016 and removing 1.3 million barrels a day would take their combined output back to June levels that most members were happy with before U.S. President Donald Trump started pressuring them to open the taps.
Trump is the biggest risk to this scenario. Mohammed bin Salman, the Saudi crown prince and day-to-day ruler, can ill afford to openly defy the president's Twitter-based campaign for lower oil prices. After international outrage over the murder of Jamal Khashoggi in the Saudi consulate in Istanbul, the prince needs his ally in the White House to protect him from angry senators and other Washington power players.
"There is no-one in the group, least of all Saudi Arabia, that wants to undo all the hard work of the past two years in bringing down excess inventories by leaving Vienna without a deal," said Amrita Sen, chief oil analyst at consultant Energy Aspects Ltd. in London. "But the increasingly bipolar relationship between Saudi Arabia and the U.S. makes it extremely difficult."
Vienna Fudge
To avoid incurring the wrath of Trump, some OPEC delegates are privately discussing the idea of engineering a production cut without explicitly calling it that. They could perhaps say that output will fall, but only because customers are asking for fewer barrels.
Saudi Energy Minister Khalid Al-Falih already hinted at such an approach earlier this month, saying the kingdom's output should fall in December and again in January as buyers seek lower volumes.
The risks of this approach are twofold. First, oil traders simply might not believe that real production cuts are coming. Second, nations such as Iraq and Russia, which were already showing signs of deal-fatigue when their cuts ended in June, may not adhere so faithfully to vaguely worded commitments.
"Walking out of Vienna next week with no explicit cut, but a jumbled statement referring to some broad intention to prevent the market from being oversupplied will undoubtedly trigger a further sell-off," said Sen.
Open the Taps
Four years ago, as oil slumped due to surging U.S. shale output, Russia met with ministers in Vienna to discuss possible cooperation to boost prices. Those talks went nowhere and a few days later the full OPEC meeting ended without any agreement to cut production.
What followed was a fully fledged price war as Saudi Arabia opened the taps and crashed prices in an attempt to drive high-cost rivals such as shale producers out of business. Crude fell as low as $27 in early 2016 before the kingdom gave up on the strategy and started building a new alliance to cut production.
The deal between Putin and Prince Mohammed in Buenos Aires would appear to preclude such a scenario this week. While the two leaders didn't agree any hard numbers, they showed the political will still exists for joint action to stop the market spinning out of their control.
1
2
View Full Article
Generated by readers, the comments included herein do not reflect the views and opinions of Rigzone. All comments are subject to editorial review. Off-topic, inappropriate or insulting comments will be removed.