OPEC Weighs Mid-July Meeting
by Bloomberg
|
Golnar Motevalli and Grant Smith
|
Tuesday, June 18, 2019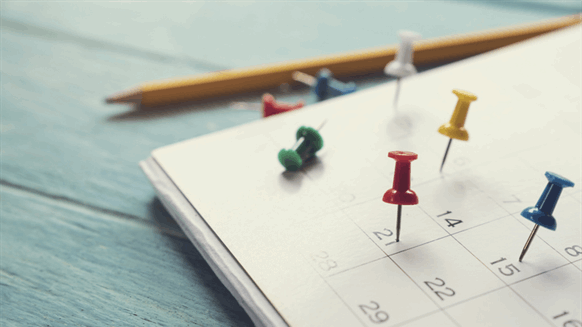 OPEC and its allies shifted focus to mid-July for the next meeting to discuss extending production cuts.
(Bloomberg) -- OPEC and its allies shifted focus to mid-July for the next meeting to discuss extending production cuts, after talks between Russia and Iran made some progress toward resolving a standoff over the date.
The oil producers group, which pumps more than half the world's crude, has been bickering for a month about the timing of ministerial talks. Their failure to agree a date gives turbulent oil markets little reassurance about the future of production cuts, just as crude prices extend their slump.
After discussions with his Russian counterpart, Iran's Oil Minister Bijan Namdar Zanganeh said he was willing to hold a meeting on July 10 to 12. While this marked some progress from his previous insistence that the group should get together next week, it was unclear whether it would resolve the impasse.
"I don't have a problem with July 10 to 12," Zanganeh told reporters in Tehran on Monday. "I cannot meet 3rd or 4th of July. It's not that I'm opposed to it, I can't meet then."
Other nations from the Organization of Petroleum Exporting Countries and its allies had coalesced around July 3 to 4 as the favored date for the next meeting. Five delegates from the group said they weren't certain that Iran's proposal to get together a week later would be accepted by other members.
Diplomatic Spat
The original request to shift the date of the meeting from June to July came from Russia, a producer outside OPEC that has exerted a strong influence over the group since joining forces almost three years ago.
Differences over the timing began as a mere scheduling clash, but escalated rapidly into a diplomatic spat that pitted long-standing regional rivals Saudi Arabia and Iran against each other. The dispute played out amid a broader geopolitical confrontation as the Saudis -- and the U.S. -- accused Iran of complicity in attacks on two oil tankers near the Gulf of Hormuz on June 13. Iran, which is under U.S. sanctions, denied culpability.
Algeria, like Iran, initially opposed pushing the meeting to July, saying the new date would conflict with a planned election in the North African country. The Algerians later canceled their July 4 vote, leaving Iran as the sole holdout against the rescheduled meeting.
Zanganeh, when asked about Russian Energy Minister Alexander Novak's response to his proposal for July 10-12, said: "He's not the decision maker, the decision maker is OPEC and OPEC must reach a consensus." Novak left the meeting in Tehran without speaking to reporters.
For all the uncertainty over the meeting date, OPEC and its allies appear to be heading for an extension of their production cuts amid doubts about the strength of global demand as the economy shows signs of slowing. Saudi Energy Minister Khalid Al-Falih said earlier this month that he was "sure" the curbs will continue beyond June.
"There will not be room for the cartel to increase output for the rest of 2019 in our view," Rystad Energy's Chief Oil Market Analyst Bjornar Tonhaugen said in a note on Tuesday. "As non-OPEC+ adds more supply than global demand is increasing by, OPEC+ will still be pressured to manage production in order to balance the global market."
To contact the reporters on this story:
Golnar Motevalli in Tehran at gmotevalli@bloomberg.net;
Grant Smith in London at gsmith52@bloomberg.net
To contact the editors responsible for this story:
Nayla Razzouk at nrazzouk2@bloomberg.net
James Herron, Rakteem Katakey
Generated by readers, the comments included herein do not reflect the views and opinions of Rigzone. All comments are subject to editorial review. Off-topic, inappropriate or insulting comments will be removed.