OPEC President Says Shale Won't Thwart Plan to Clear Glut
by Bloomberg
|
Elyan, El Wardany, Habboush, Mahdi
|
Monday, February 12, 2018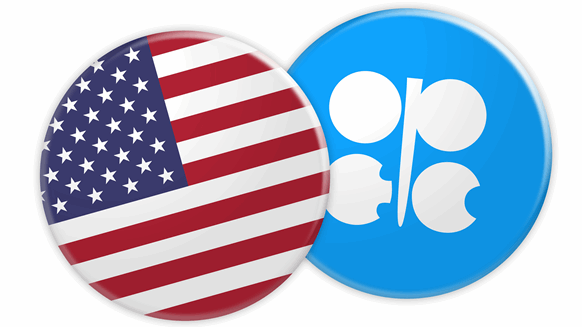 Surging output of US shale oil won't be a 'huge distorter' of efforts by global crude producers to clear a glut, according to OPEC's president.
(Bloomberg) -- Surging output of U.S. shale oil won't be a "huge distorter" of efforts by global crude producers to clear a glut, according to OPEC's president.
The market should re-balance this year, given robust demand and producers' compliance with their pledges to curtail supply, United Arab Emirates Energy Minister Suhail Al Mazrouei, currently the president of the Organization of Petroleum Exporting Countries, said Monday in an interview in Dubai. The market is "on course to restoring balance" for the first time since 2014, OPEC's Secretary-General Mohammad Barkindo said at a conference in Cairo.
Oil demand is set to grow by 1.6 million barrels a day in 2018, the same level as last year, and crude inventories are continuing to dwindle as OPEC and other producers pursue their output cuts until the end of the year, Barkindo said Monday. Venezuela is proposing that OPEC seek a five-year deal for cooperation on output with allied producers beyond 2018, he said.
"Venezuelans see that the cooperation with non-OPEC producers shouldn't end," Barkindo told reporters in Cairo. "They have put forward a proposal for the time frame of the cooperation, and that was five years. But this proposal isn't final, and it's a work in progress."
Inventories in Focus
Oil is rebounding from its biggest weekly decline in two years, though gains are limited due to concerns over a resurgence in U.S. shale. The U.S. oil rig count rose last week by 26, the most in a year, to 791, Baker Hughes data showed on Friday. American weekly crude output topped 10 million barrels a day for the first time on record, and the U.S. government forecasts it will balloon to 11 million later this year.
Such an increase would complicate efforts by OPEC, Russia and other producers to prop up crude prices by curtailing supply. The producers agreed in November to extend self-imposed limits on output until the end of this year, seeking to counter a glut fed partly by U.S. shale drillers.
"Shale is coming and the expectation is that it will come stronger than in 2017, and this is something that we have to watch," Al Mazrouei said. "But considering all factors, I don't think it will be a huge distorter of the market."
"What concerns us today is the level of inventories that we need to achieve the five-year average, and I see the market going in that direction and achieving balance," he said. "How long it will take depends on how long the increase in shale production will take." Participants in the oil-cuts accord aim for global crude inventories to fall to the average level of the past five years.
'Unprecedented Conformity'
"Demand for this year is expected to be good, if not better than 2017," Al Mazrouei said. This, together with "good" economic indicators and compliance with output cuts, indicate that the crude market will balance within the year, he said.
Barkindo said producers' "unprecedented conformity" with their targets for reducing output is driving progress toward a balance market. Compliance reached a record level of 129 percent in December, for a monthly average of 107 percent last year, and preliminary estimates show that compliance in January will surpass December's level, he said.
Oil prices are currently at less than half their 2014 peak, with benchmark Brent crude futures up 0.8 percent at $63.28 a barrel in London at 3:26 p.m. local time. Brent tumbled 8.4 percent last week, in the second consecutive weekly loss.
"It's a correction only. It will come back," Kuwaiti Oil Minister Bakheet Al-Rashidi told reporters in Kuwait City. Kuwait expects cooperation on oil policy to continue beyond 2018, he said. "We will look for criteria to make sure the market is stable at all times."
With assistance from Fiona MacDonald. To contact the reporters on this story: Mahmoud Habboush in Abu Dhabi at mhabboush@bloomberg.net; Wael Mahdi in Kuwait at wmahdi@bloomberg.net; Salma El Wardany in Cairo at selwardany@bloomberg.net; Tamim Elyan in Cairo at telyan@bloomberg.net. To contact the editors responsible for this story: Nayla Razzouk at nrazzouk2@bloomberg.net Bruce Stanley.
Generated by readers, the comments included herein do not reflect the views and opinions of Rigzone. All comments are subject to editorial review. Off-topic, inappropriate or insulting comments will be removed.
RELATED COMPANIES