OPEC+ Prepares to Pump More Oil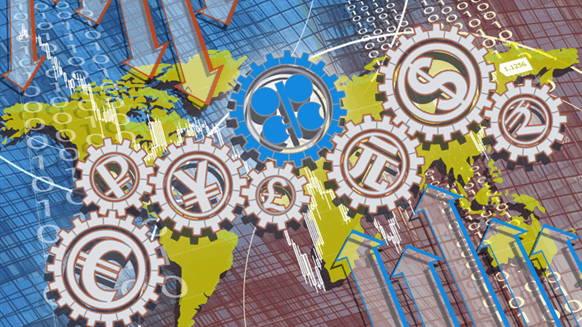 From quiet skies over Europe to sparse traffic in America's biggest cities, a recovery in global oil demand is faltering.
All of which is keeping inventories bloated. The world's largest independent oil storage company, Rotterdam-based Royal Vopak NV, says that it's almost run out of available space. Rystad predicts supply will exceed demand by 700,000 barrels a day next month, and by 2 million a day in September.
Prices are wilting in response. The rally that more than doubled Brent futures since late April has lost momentum, leaving the international benchmark stuck near $40 a barrel. It was down 2.6% at 4:51 p.m. London time on Thursday following weak U.S. economic data. A discount on early deliveries, which OPEC sought to eliminate, has only deepened.
Surplus Concerns
"OPEC's experiment to increase production could backfire as we are still nowhere near out of the woods yet in terms of oil demand," said Bjornar Tonhaugen, the consultant's head of oil markets. "The balances look to be heading towards a mini supply glut for the next three to four months."
Saudi Arabia says the impact of its own extra production will be neutralized as it burns the additional barrels at home, where demand for air conditioning surges during the summer. It is also pressing OPEC's habitual quota cheats, like Iraq and Nigeria, to refrain from increasing production now as a gesture of atonement.
If that doesn't work, OPEC+ could always rethink its current course. Key ministers from the coalition will hold a monitoring meeting on Aug. 18.
"If oil prices suddenly do tank to the low $30s or something, that would not be tolerable for Riyadh," said Tonhaugen. "If there is this glut in the next month or two, we might see OPEC+ throttle back a little bit."
--With assistance from Anthony Di Paola and Julian Lee.
To contact the reporter on this story:
Grant Smith in London at gsmith52@bloomberg.net
To contact the editors responsible for this story:
James Herron at jherron9@bloomberg.net
Christopher Sell
1
2
View Full Article
Generated by readers, the comments included herein do not reflect the views and opinions of Rigzone. All comments are subject to editorial review. Off-topic, inappropriate or insulting comments will be removed.