Oil Slips From 11-Week High
by Bloomberg
|
Olivia Raimonde
|
Wednesday, May 27, 2020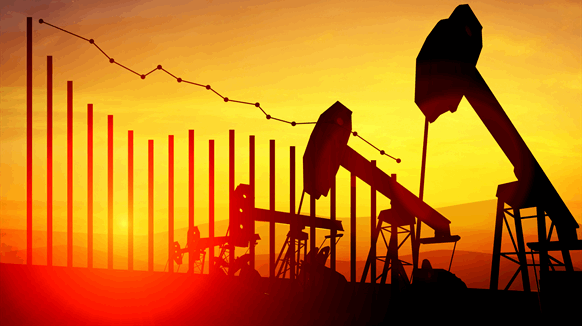 Investors weighed whether or not Russia would extend output curbs when OPEC+ meets in two weeks.
(Bloomberg) -- Oil fell from a nearly three-month high as investors weighed whether or not Russia would agree to extend output curbs when OPEC+ meets in two weeks.
West Texas Intermediate crude futures dropped 4.5% in New York. Russian President Vladimir Putin and Saudi Arabia's Mohammed bin Salman on Wednesday reiterated their cooperation on the OPEC+ supply-deal ahead of a June 9-10 meeting. But earlier Moscow said it wanted to scale back curtailments as soon as the current agreement expires in July, according to people familiar with the matter.
The last time Russia and Saudi Arabia failed to agree on market action, the fallout culminated in a devastating price war that dragged oil prices to historic lows.
"It's really important to provide stability in the market going forward and have some kind of coordinated effort together that helps not only Russia but OPEC and provides stability in the prices," said Phil Streible, chief market strategist for Blue Line Futures LLC.
OPEC+'s commitment to reducing output by almost 10 million barrels a day starting in May has helped to lift oil prices by about 75% this month. But the market's recovery remains fragile, with higher prices likely to prompt producers to turn the taps back on even as the pandemic continues to quash energy demand.
Hopes that the group will extend the curbs until the supply glut is eliminated hinge on Russia's willingness to coordinate with OPEC on the matter.
Separately, the U.S. is considering a range of sanctions to punish China for its crackdown on Hong Kong, including controls on transactions and freezing assets of Chinese officials and businesses. Additionally, the U.S. certified Wednesday that Hong Kong is no longer politically autonomous from China. The deteriorating relationship between the world's two largest economies could complicate the market's comeback from a historic demand crash.
Prices:
West Texas Intermediate crude for July delivery fell $1.54 to settle at $32.81 a barrel in New York.
Brent for July settlement lost $1.43 to $34.74 a barrel.
The physical market has recovered in recent days as economies reopen. Indian, Chinese and South Korean refineries are buying distressed cargoes in a sign of returning demand. In the U.S., top infectious disease expert Anthony Fauci, said there is a chance that a coronavirus vaccine will be available by the end of the year and that U.S. testing capabilities are improving. The remarks feed optimism that the country could get back to work sooner than expected.
Still, warning signals remain. Demand for gasoline fell 25% to 35% from a year earlier over the U.S. Memorial Day weekend, which usually heralds the start of the summer driving season and the peak of fuel consumption.
--With assistance from Alex Longley, Sharon Cho and James Thornhill.
To contact the reporter on this story:
Olivia Raimonde in New York at oraimonde@bloomberg.net
To contact the editors responsible for this story:
Pratish Narayanan at pnarayanan9@bloomberg.net
Catherine Traywick
Generated by readers, the comments included herein do not reflect the views and opinions of Rigzone. All comments are subject to editorial review. Off-topic, inappropriate or insulting comments will be removed.