Oil Rises on OPEC Cuts, Demand Optimism
by Bloomberg
|
Olivia Raimonde and Alex Longley
|
Thursday, May 14, 2020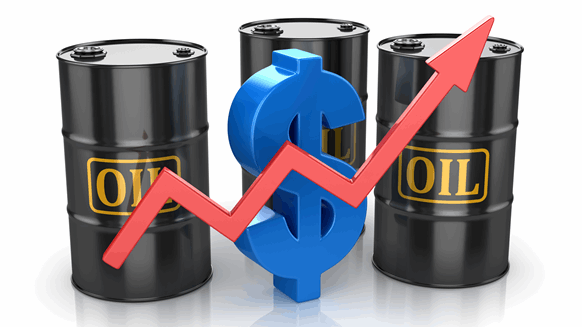 There is a little more optimism that the darkest days for the market may be behind us.
(Bloomberg) -- Oil surged to the highest in more than five weeks as signs emerge that OPEC and its allies are scaling back crude shipments at a time when consumption is recovering.
Futures in New York gained 9% Thursday. OPEC+ reduced exports by 5.96 million barrels a day for the first 14 days of May, according to Petro-Logistics. Meanwhile, Saudi Aramco cut oil sales to the U.S. and Europe by about half. The International Energy Agency said the outlook for global markets is improving with demand a little stronger than expected, while oil major BP Plc said consumption has surged back this week as cars return to the roads.
The drop in exports is showing "they are complying with the OPEC+ deal," said Andrew Lebow, senior partner at Commodity Research Group. The action taken contributed to a "more constructive scenario for the market."
Investors are still focused on the demand trajectory amid concern that a resurgence of coronavirus cases could derail an economic rebound. While the IEA joined Saudi Arabia and Russia in seeing signs of consumption improving, the market is still having to recover from an unprecedented rout that pushed West Texas Intermediate crude futures into negative territory last month.
"There is a little more optimism that the darkest days for the market may be behind us," said Judith Dwarkin, chief economist at RS Energy Group.
Prices:
West Texas Intermediate for June delivery climbed $2.27 to settle at $27.56 a barrel in New York.
Brent for July settlement rose $1.94 to end the session at $31.13 a barrel.
Aramco will decrease shipments to some buyers in the U.S. and Europe by as much as 70%, according to a person with knowledge of the situation. Eight of the 12 Asian refiners that had their term supplies cut said the reductions were substantial, with curtailments of 20%-30% or more.
Other oil-market news:
Oil's historic plunge below $0 a barrel pummeled portfolios, broke risk models and changed the way the world's most important commodity is traded. But it probably won't happen again this month.
An armada of Saudi tankers brimming with crude heading to American shores is raising concern over storage space just as a U.S. glut shows signs of easing.
As the coronavirus crushes global demand for gasoline, diesel and jet fuel, the world's oil refineries are getting a helping hand from an unlikely source: fuel oil that contains so much sulfur that many ships are barred from using it.
--With assistance from James Thornhill and Grant Smith.
To contact the reporters on this story:
Olivia Raimonde in New York at oraimonde@bloomberg.net;
Alex Longley in London at alongley@bloomberg.net
To contact the editors responsible for this story:
David Marino at dmarino4@bloomberg.net
Steven Frank, Jessica Summers
Generated by readers, the comments included herein do not reflect the views and opinions of Rigzone. All comments are subject to editorial review. Off-topic, inappropriate or insulting comments will be removed.