Oil Rises for Fifth Day
by Bloomberg
|
Olivia Raimonde
|
Wednesday, May 20, 2020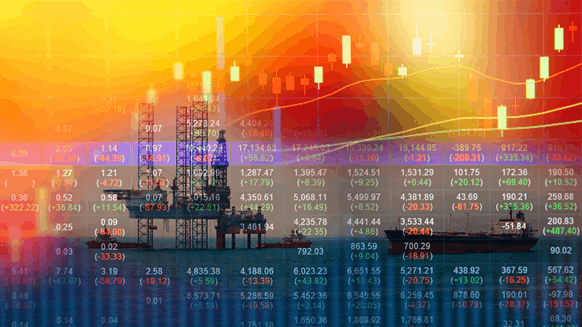 The US Energy Information Administration showed oil inventories declined for the second week in a row.
(Bloomberg) -- Oil rose for the fifth straight session as investors weighed signs the market is rebalancing against what's still a precarious economic outlook.
Futures in New York for July delivery rose 4.8% Wednesday. The U.S. Energy Information Administration showed crude oil inventories declined for the second week in a row and the Cushing, Oklahoma, hub saw a record draw of 5.6 million barrels. But a surprise 2.8 million barrel increase in gasoline stocks reflected ongoing weakness in demand.
"U.S. production is adjusting to the lower demand which is helping to keep inventory levels from reaching the concerns everybody had of reaching capacity," Rob Thummel, portfolio manager at Tortoise, said in a phone interview. The increase in gasoline inventories is a short-term indicator that demand didn't rise as much as everyone was expecting last week, he said.
The record draw in Cushing sent a bullish signal to traders. The so-called WTI June/July cash roll traded at 30 cents Wednesday, the first time it's been in above zero since December, according to Bloomberg data. The price signals that a U.S. supply glut that's sent benchmark oil spiraling in recent months may be diminishing.
Prices:
WTI for July delivery rose $1.53 to settle at $33.49 a barrel in New York
Brent for July settlement advanced $1.10 to $35.75 a barrel
Gasoline futures fell 0.14 cents to $1.0438 per gallon
WTI prices have climbed this month amid the nascent recovery in demand and reductions in supply. Frontline Ltd. sees global oil production cuts reversing as early as the second half of 2020, depending on demand and Federal Reserve Bank of Dallas President Robert Kaplan said during an interview on Bloomberg Television that U.S. oil shut-ins may be at their peak right now.
"If you get a little bit of extra demand, suddenly everybody is turning the taps up," said Michael Hiley, head of over-the-counter energy trading at LPS Futures. "So, the supply could very quickly overwhelm the demand."
More oil-market news:
From the Middle East to Siberia, the North Sea down to Latin America, the prices of physical cargoes of crude oil are rallying hard almost everywhere, underpinning a surge in headline futures markets. Now, though, attention is turning toward just how sustainable the recovery will really be.
For ordinary investors, it was perhaps the most spectacular demonstration of the unique perils of trying to wager on the price of oil.
The Trump administration has granted at least 76 petitions to cut royalty payments for oil and natural gas produced on public land in Utah -- a move condemned by critics as encouraging production the market doesn't need.
--With assistance from Alex Longley, Ann Koh and James Thornhill.
To contact the reporter on this story:
Olivia Raimonde in New York at oraimonde@bloomberg.net
To contact the editors responsible for this story:
David Marino at dmarino4@bloomberg.net
Mike Jeffers, Christine Buurma
Generated by readers, the comments included herein do not reflect the views and opinions of Rigzone. All comments are subject to editorial review. Off-topic, inappropriate or insulting comments will be removed.