Oil Rides US Risk Rally But Global Glut Worries Linger
by Bloomberg
|
Jackie Davalos
|
Tuesday, March 24, 2020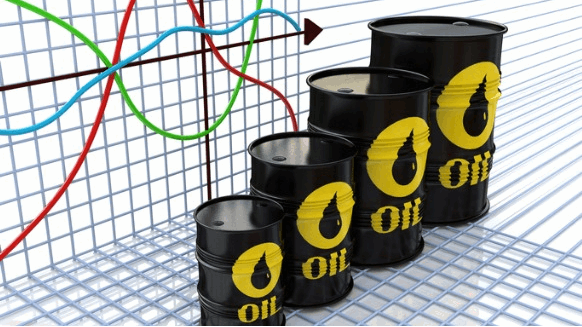 Oil was swept up with other risk assets on optimism over a US stimulus package to shore up the economy.
(Bloomberg) -- Oil was swept up with other risk assets on optimism over a U.S. stimulus package to shore up the coronavirus-battered economy.
Futures advanced 2.8% in New York as House Speaker Nancy Pelosi signaled Congress will reach a deal on a massive spending bill, a day after the Federal Reserve unveiled a sweeping set of economic measures. Those efforts also helped equities rebound, with the Dow Jones Industrial average having its best day since 1933.
All that helped offset fears over a global crude glut. However, those worries are still reflected in the structure of the market, which sank further into contango -- a sign of oversupply where near-term cargoes are cheaper than those for later. Brent's six-month time spread widened to levels not seen since 2009.
Major trading house Gunvor Group Ltd. estimated that the global crude surplus stood at 14 million to 15 million barrels a day as the coronavirus pandemic obliterates demand, and major producers such as Saudi Arabia and Russia pump more to gain market share.
"The hope for more stimulus is giving a short-term boost," said Josh Graves, market strategist at RJ O'Brien & Associates LLC. "From a fundamentals standpoint, we're still looking at two cataclysmic supply and demand shocks. Those need to be addressed before we see any sustained rally."
American lawmakers haven't yet reached a deal to bolster the U.S. economy, which has started showing signs of weakness from the fallout over measures to contain the spread of the virus.
A gauge of activity at service providers and manufacturing contracted the most on record on Tuesday. The U.S. Central Bank said Monday it would buy unlimited amounts of Treasury bonds and mortgage-backed securities, and set up programs to ensure credit flows to corporations.
Oil markets have turned bearish during the crisis, with the benchmark for global physical supply at its weakest since 2002 on Monday and gasoline in the U.S. crashing. IHS Markit estimates that global demand in the second quarter will contract by 14 million barrels a day, while Sanford C. Bernstein & Co. forecasts consumption could drop by as much as 20% this half.
"As long as we keep seeing lockdowns, it's going to fuel the question of how deep does the demand destruction go," said Ian Nieboer, managing director at RS Energy Group, now part of Enverus. "At the same time, more barrels are hitting the market. The path for recovery is still very uncertain."
As the Russia-Saudi price war rages on, Group of Seven finance chiefs urged oil-producing nations to support international efforts to stabilize world markets rocked by the coronavirus crisis. The G7's request follows a range of attempts at mediation that so far have failed to yield results.
Prices:
West Texas Intermediate gained 65 cents to settle at $24.01 a barrel in New York.
Brent for May gained 0.4% to settle at $27.15 a barrel.
U.S. gasoline jumped almost 8% to 44.37 cents a gallon.
Meanwhile, oil refiners across the U.S. are curbing operations amid the dramatic collapse in gasoline demand and prices. OPEC producer Nigeria offered to sell its crude in April at unusually large discounts.
Those discounts are set to force crude into storage, though traders may find they can't fill tanks quickly enough, Citigroup Inc. analysts wrote in a report. As a result, the oil futures curve is set to weaken further, they said, testing the ability of producers to keep pumping.
Other oil-market news:
Chevron Corp. became the latest major oil company to take an ax to its budget after halting its $5 billion-a-year share buyback and halving spending in the Permian Basin.
Two of the world's biggest oilfield service companies are warning of a bigger shale crash than the one that hit the U.S. and Canada just five years ago.
Some North American customers of Saudi crude have renominated for less supply for loading in April following a move by state-owned Aramco to slash its freight rebates for buyers.
Petroleos Mexicanos's battle for market share on the U.S. Gulf Coast is jump-starting Latin American oil sales, even as refiners reduce operations amid plunging fuel demand and collapsing prices.
--With assistance from James Thornhill, Ann Koh and Alex Longley.
To contact the reporter on this story:
Jackie Davalos in New York at jdavalos10@bloomberg.net
To contact the editors responsible for this story:
Serene Cheong at scheong20@bloomberg.net
Pratish Narayanan, Mike Jeffers
Generated by readers, the comments included herein do not reflect the views and opinions of Rigzone. All comments are subject to editorial review. Off-topic, inappropriate or insulting comments will be removed.