Oil Refiners Shrug Off Harvey to Rake in Fat Post-Storm Profits
by Bloomberg
|
Meenal Vamburkar
|
Wednesday, October 25, 2017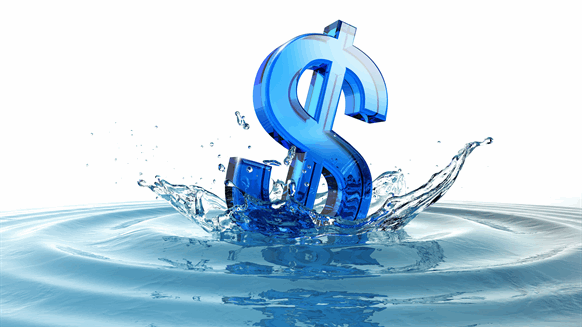 When Hurricane Harvey cleared and the floodwaters receded, oil refiners found themselves floating on a sea of cash.
(Bloomberg) -- When Hurricane Harvey cleared and the floodwaters receded, oil refiners found themselves floating on a sea of cash.
That's the consensus of industry analysts who expect the five largest pure-play refiners to post double-digit profit increases starting on Thursday. Despite the temporary devastation Harvey wrought in the heart of the Western Hemisphere's refining heartland, most plants escaped long-term damage and were back in action quickly enough to capture swelling margins created by fuel shortages.
Refiners in Midwest locations such as Kansas and Illinois -- far from the south Texas coast where Harvey roared ashore on Aug. 25 -- probably scored even bigger boosts to their bottom lines as facilities closer to the storm shut, triggering price-lifting fuel shortages for hundreds of miles inland, said Ashley Petersen, senior oil market analyst at Stratas Advisors.
"They could step in and fill the gap," Peterson said of the Midwestern refiners. "They were able to take advantage of that."
As Harvey dumped a year's worth of rain in just five days on southeast Texas, almost a quarter of the refining capacity of the world's biggest economy shut down. That crippled not only domestic gasoline, diesel and jet fuel markets, but reverberated as far away as Mexico and Brazil, where the disruption to Gulf Coast fuel production caused a scramble for alternative supplies among importers.
Crack Spread
Gasoline prices in the U.S. surged to the highest level in more than two years and distributors tapped storage tanks to keep deliveries flowing to filling stations. The crack spread, a rough measure of how profitable it is to process crude into fuels, jumped to $27.35 a barrel on Sept. 1, compared with $18.64 the day before Harvey's landfall.
Phillips 66, the biggest U.S. stand-alone refiner by market value, is expected to post a 49 percent increase in adjusted third-quarter per-share profit when the Houston-based company reports results on Friday, based on the average estimate from analysts in a Bloomberg survey. The next four-largest fuel makers -- Valero Energy Corp., Marathon Petroleum Corp., Andeavor and HollyFrontier Corp. -- are expected to post per-share profit gains of between 48 percent and 154 percent.
Analysts at Wolfe Research LP expect refiners with plants outside the Gulf Coast region poised to show particularly outsized results. Those include PBF Energy Inc., Delek U.S. Holdings Inc. and CVR Refining LP, whose top investor is billionaire Carl Icahn, a team of analysts including Paul Sankey said in a note to clients.
Biofuels Snag
Still, one sticking point remains for some oil processors: federal biofuel mandates. Refiners are required to add ethanol and biodiesel to gasoline and diesel to satisfy annual quotas. Those that can't blend the biofuels themselves must purchase credits known as renewable identification numbers, or RINs. Acquiring RINs can exact millions in extra costs for refiners. The promise of relief for refiners faded when President Donald Trump was said to have directed the Environmental Protection Agency not to weaken the mandate.
"RINs remain a mystery," Brad Heffern, an analyst at RBC Capital Markets LLC, said in a research note. "Optimism on RINs has faded, but there are both potential negatives and potential positives on the horizon."'
With assistance from Lucia Kassai. To contact the reporter on this story: Meenal Vamburkar in New York at mvamburkar@bloomberg.net. To contact the editors responsible for this story: Reg Gale at rgale5@bloomberg.net Joe Carroll, Carlos Caminada.
Generated by readers, the comments included herein do not reflect the views and opinions of Rigzone. All comments are subject to editorial review. Off-topic, inappropriate or insulting comments will be removed.