Oil Prices Settle Higher on Stimulus Expectations
by Bloomberg
|
Andres Guerra Luz
|
Tuesday, October 20, 2020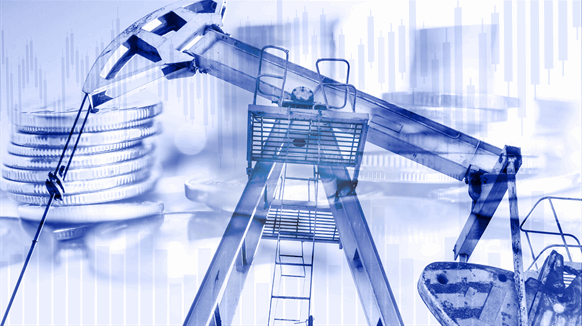 Oil surged to a seven-week high in New York.
(Bloomberg) -- Oil surged to a seven-week high in New York as U.S. lawmakers negotiated the size of a potential spending bill to boost economic recovery, presenting a rare bright spot for the demand outlook.
U.S. crude futures rose above $41 a barrel amid optimism that lawmakers may break a months-long impasse in stimulus talks. House Speaker Nancy Pelosi said a bill for a compromise stimulus package is being written as she awaits a key phone call with Treasury Secretary Steven Mnuchin. Still, any deal may face stiff opposition in the Senate. Prices also strengthened on expectations that U.S. crude stockpiles fell for a second week.
"Anything that helps the economy do better is going to be helpful for crude," said Bill O'Grady, executive vice president at Confluence Investment Management in St. Louis. "Still, driving activity is down and people are not as global as they were. It may get better, but not back to where it was before."
The market is also weighing uncertainty over whether OPEC and its allies will move forward with plans to add 2 million barrels a day back onto the market from January. Russian Energy Minister Alexander Novak said that the nation won't make any decisions about the future of cuts related to the OPEC+ output deal until the group's meeting next month.
U.S. crude futures have struggled to make a sustained break above $40 as governments try to control new flareups of the virus. The worsening virus in Europe is sapping momentum from an already fragile demand recovery. Still, the prospect of a long-awaited stimulus deal in Washington would provide a much-needed boost to demand in the U.S.
"According to the current OPEC+ deal, we are going to see 2 million barrels a day come in January, and we're not so sure the market can handle this," said Bart Melek, head of global commodity strategy at TD Securities. "We're also going to need more clarity where the fiscal plan is going. So there are a lot of uncertainties out here."
Prices
West Texas Intermediate for November delivery, which expires Tuesday, rose 63 cents to settle at $41.46 a barrel
The more active December contract was up 64 cents to end the session at $41.70 a barrel
Brent for December settlement gained 54 cents to settle at $43.16 a barrel
Both Saudi Arabia's Energy Minister Prince Abdulaziz bin Salman and Russia's Novak offered bearish views on demand at an OPEC+ Joint Ministerial Monitoring Committee meeting on Monday. Prince Abdulaziz bin Salman called on the group to be proactive in the face of uncertain demand. The panel did not discuss if OPEC+ should press on with plans to taper output cuts next year, delegates said.
Yet, UBS Group AG analysts said delegates at the next JMMC meeting on Nov. 17 will likely recommend that an output delay is announced at the full meeting two weeks later.
Meanwhile, analysts are expecting U.S. crude supplies to fall 1.38 million barrels, according to a Bloomberg survey ahead of government data on Wednesday. The industry-funded American Petroleum Institute will report its inventory tally later Tuesday.
Other oil-market news:
Israel and the United Arab Emirates have opened talks over an oil pipeline linking the Red Sea with the Mediterranean and whose operations Israeli officials treat as top secret.
The latest merger talks between two Permian shale producers will have to deal with an unusual family dynamic that has raised concerns about a potential conflict of interest.
Oil explorers in the Permian Basin are once again having to pay to get rid of unwanted natural gas, adding to signs that crude output is set to rise in America's most prolific shale play.
© 2020 Bloomberg L.P.
Generated by readers, the comments included herein do not reflect the views and opinions of Rigzone. All comments are subject to editorial review. Off-topic, inappropriate or insulting comments will be removed.