Oil Prices Have Limited Upside
by Paul Kuklinski
|
Boston Energy Research
|
Tuesday, January 30, 2018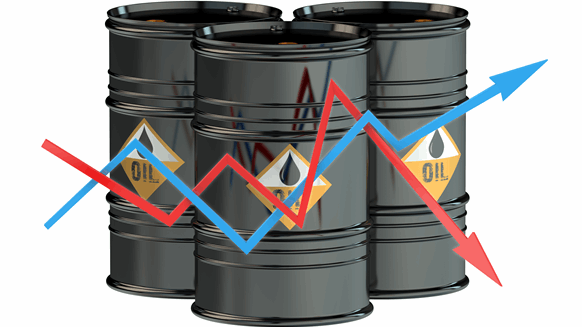 The 40% increase in oil prices since August is likely to stimulate a strong production response.
This opinion piece presents the opinions of the author.
It does not necessarily reflect the views of Rigzone.
Too much, too soon. The 40 percent increase in oil prices since August is likely to stimulate a strong production response, with a typical lag, sufficient to keep oil inventories elevated above the 5-year average for all of 2018, despite the extension of OPEC's production cut to the end of the year. It may even undermine OPEC compliance and negatively impact oil demand.
The spike provides producers a very attractive opportunity to hedge their 2018 production. The marginal cost of new oil supply is in the $65-$75/bbl range, which was well out of reach in each of the last 3 years. WTI averaged $49/bbl in 2015, $43/bbl in 2016, and $51/bbl in 2017.
WTI is now $66/bbl, at a level not seen since 4Q14. It averaged $49/bbl for the first 9 months in 2017. The 40 percent spike from $47/bbl in August was caused by pipeline disruptions in the United States, North Sea and Libya; hurricanes in the Gulf of Mexico; increased geopolitical anxiety, first over Iraq, recently Iran; and the arrival brutal cold winter weather which will pass. Without an escalation of conflict in the Middle East, Libya and Nigeria, these varied stimuli are unlikely to have a lasting effect.
Brent crude is $71/bbl, at a $4.60/bbl premium over WTI, which is down from over $7/bbl late last year. The premium will likely further contract in 2018.
Aided by the unusual number of one off events, the OPEC production cut was successful in reducing surplus OECD inventories to 133 million barrels above the 5-year average in November according to OPEC estimates, down from 318 million barrels surplus earlier in the year and a record high in 1Q16 of 380 million barrels. The OECD accounts for 48 percent of total world oil demand.
OPEC has achieved the stated price goal of its production cut announced in November 2016. That may cause some of its members to reduce compliance, rather than cede market share and further stimulate the growth in non-OPEC production, which could cause surplus inventories to once again build at a hefty rate. When OPEC announced its production cut a year ago, it believed elimination of the surplus in OECD inventories to the 5-year average would increase oil prices to $60-65/bbl. That has now occurred.
Total December OPEC production was 32.23 million barrels per day (MMbpd), down 1.17 MMBD from 4Q16 when the cut was announced. OPEC production in 2018 is otherwise projected to remain near December levels except for a steady decline in Venezuela. Venezuela produced 1.61 MMbpd in December, down a sizable 510 Mbpd (thousand barrels per day) from 4Q16.
OPEC is scheduled to review the progress of its 1.8 MMbpd production cut in June, which is scheduled to expire the end of the year. Net long futures positions in crude are at a record high in January. Oil traders may choose to take profits in advance of the meeting, if not sooner.
Non-OPEC production was 58.34 MMbpd in 4Q17, up just 439 Mbpd from 4Q16. Declines in Russia, and other producers partly offset the growth in U.S. production. U.S. liquids production was 13.40 MMbpd in 4Q17, up 1.10 MMbpd Y/Y. US producers are poised to accelerate production growth in 2018.
A recent survey by the Federal Reserve Bank of Dallas of 134 energy companies based in Texas and nearby expects the U.S. rig count to be higher than 930 in 6 months. Nearly all believed it would increase substantially with oil prices above $60/bbl, where they are now. The current rig count is 936 compared to an 874 average in 2017.
Growth will come primarily from the major resource plays: primarily the Permian Basin and the Bakken. Combined oil production from these basins increased 849 MBD Y/Y in 4Q17, up 18 percent over 4Q16. The risk is that production will grow so much faster in 2018 as to cause lower oil prices. Break even costs in these plays are now in the $33-$35/bbl range.
The spike in oil prices may also negatively impact world oil demand after winter passes. IEA analytics calculate a 10 percent increase in expected oil prices reduces global demand about 400 MBD, all else being equal. Oil prices are up 40 percent since August.
Since 2015, global oil demand has grown about 5 MMbpd, twice as fast as the previous 3 years, supported by strong global economic growth, particularly in the OECD. In 4Q17, it was up 1.50 MMbpd Y/Y to 98.30 MMbpd, which is well above trend-line. China, India and Africa lead the expansion.
A looming decline in aging conventional fields in 2019 and beyond will provide downside support for oil prices. In its 4Q17 earnings call, Schlumberger said it anticipates a 1 MMbpd decline in 2019 production in Latin America, Africa and Asia, which will accelerate thereafter.
Paul Kuklinski (bostonenergyresearch@msn.com) has selected equity investments in the energy sector for major institutional investors for over 30 years. In his experience, the future price of oil is the dominant investment variable.
He founded Boston Energy Research in 1992 to provide independent research to large financial institutions. He was previously a Partner at Cowen & Company and a founding Partner of Harvard Management Company, which in the 1970s built a weighting over 50% in the energy sector in the Harvard Endowment equity portfolio. It generated substantial realized gains.