Oil Prices Get Boost from Zeta and Weaker Greenback
by Bloomberg
|
Andres Guerra Luz
|
Tuesday, October 27, 2020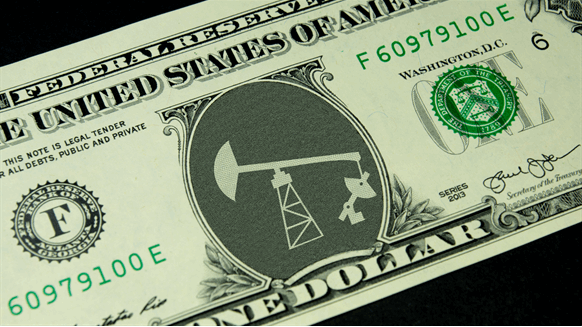 Oil rose the most in nearly three weeks.
(Bloomberg) -- Oil rose the most in nearly three weeks in the wake of a weakening dollar and as Tropical Storm Zeta leads U.S. Gulf crude producers to shut almost half their total oil output.
Futures climbed 2.6% in New York following Monday's slide below $39 a barrel. The Bloomberg Dollar Spot Index declined as much as 0.3%, boosting the appeal of commodities priced in the U.S. currency. Meanwhile, Zeta has already taken 49.5% of U.S. Gulf output offline. The storm is expected to regain strength as it heads toward an anticipated landfall in Louisiana late Wednesday.
"The path and the strength might result in larger-than-earlier expected production shut-ins," said Giovanni Staunovo, a commodities analyst at UBS Group AG. "The storm will also impact import and exports of crude and oil products."
Prices are testing the lower end of their recent trading range as Libya continues to ramp up output. Oil production at Libya's El Feel field is said to have climbed to 75,000 barrels a day, after a force majeure was lifted on Monday. Despite an improvement in consumption in Asia, a renewed surge in virus cases across the U.S. and Europe is raising concerns the fragile recovery in demand will be derailed.
"Now that we're seeing lockdowns starting to happen in Europe, the demand for jet fuel is just going to continue to fall going into the winter season," said Tariq Zahir, managing member of the global macro program at Tyche Capital Advisors LLC. "With Libya output coming back, that's adding more oil to the market that's not needed."
Prices
West Texas Intermediate for December delivery rose $1.01 to settle at $39.57 a barrel
Brent for December settlement advanced 74 cents to end the session at $41.20 a barrel
Though front-month futures prices were higher on Tuesday, the market's underlying structure has softened. Brent's nearest timespread widened to its deepest contango in two weeks, pointing to growing concerns about oversupply as Libyan oil returns.
"It's very difficult to predict what is going to happen with oil and gas right now," Murray Auchincloss, chief financial officer of BP Plc, said in an interview following the company's earnings report. "We've seen continuous reduction in inventory levels since June, and when those move toward the five-year average I suspect there will be an uptick in price."
Meanwhile, U.S. crude inventories are expected to rise, while distillate stockpiles will decline, according to a Bloomberg survey before government inventory data on Wednesday. The industry-funded American Petroleum Institute will release its figures later Tuesday.
Other oil-market news:
BP Plc used a surprise third-quarter profit to reassure investors that it was on the road to recovery, while also warning that it would be a long journey.
Barack Obama tried to stop the Keystone XL pipeline. Donald Trump tried to revive it. If Joe Biden is elected, he says he'll block it again -- and the pandemic may help him kill the project for good.
Energy Transfer LP unexpectedly slashed partnership distributions in half just weeks after billionaire founder Kelcy Warren stepped down as chief executive officer of the U.S. pipeline giant.
--With assistance from Alex Longley.
© 2020 Bloomberg L.P.