Oil Prices Edge Upward Despite OPEC Revision
by Bloomberg
|
Andres Guerra Luz & Alex Longley
|
Monday, December 14, 2020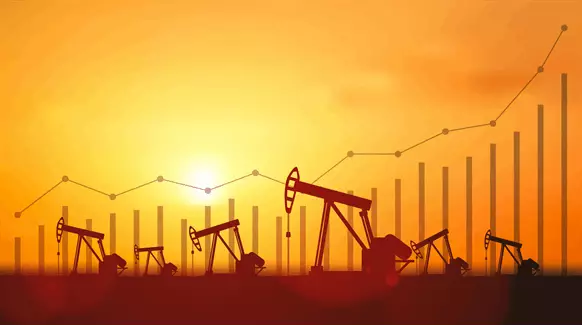 Oil inched up as the market weighed the risks of toughening restrictions in New York and London ahead of a widely available vaccine.
(Bloomberg) -- Oil inched up as the market weighed the risks of toughening restrictions in New York and London ahead of a widely available vaccine.
Futures closed at a fresh nine-month high after swinging between gains and losses earlier. The U.S. began administering the Covid-19 vaccine alongside nationwide immunization campaigns in other countries, presenting a path toward a normalization of crude demand.
Still, price gains remain limited as reopening plans around the world are impacted by the virus' spread. London is increasing pandemic restrictions this week amid warnings of a new variant of the disease, while New York City's mayor said residents should be prepared for a full lockdown. Meanwhile, the Organization of Petroleum Exporting Countries reduced projections for global fuel consumption in the first quarter of 2021 by 1 million barrels a day.
"The market is betwixt hope and reality," said Andrew Lebow, senior partner at Commodity Research Group. "A lot of this rally is hope that demand growth continues because of broader distribution of the vaccine. The reality is we're still seeing tightening lockdowns in Europe and now there's potential for lockdowns in New York."
Historically high levels of crude stockpiles indicate global demand has a ways to go before bouncing back to pre-Covid levels, with government efforts to control the spread of the pandemic remaining a persistent near-term headwind.
U.K. Health Secretary Matt Hancock told the House of Commons on Monday that a new variant of the virus has been identified and could be driving the rapid rise in cases. The tougher restrictions in London and parts of south-east England will strike a huge blow to businesses just days before the U.K. is given a five-day relaxation of the rules over Christmas.
"New mobility restrictions in Europe and weaker oil demand in India in November should be a reminder that the road to a full recovery in oil demand will remain bumpy," said Giovanni Staunovo, a commodity analyst at UBS Group AG.
Prices
West Texas Intermediate for January delivery rose 42 cents to settle at $46.99 a barrel
Brent for February settlement gained 32 cents to end the session at $50.29 a barrel
Both benchmarks are at the highest since early March
Prices rallied earlier following an explosion at the Saudi port of Jeddah. Saudi Arabia said a terrorist attack was behind the incident, but that it didn't disrupt oil or fuel supplies.
There are signs that physical oil markets remain robust. Oman crude on the Dubai Mercantile Exchange is trading in backwardation -- where nearby contracts are more expensive than later ones -- indicating tight supplies. Indian Oil Corp. was snapping up cargoes last week, while a unit of China's Rongsheng Petrochemical is seeking barrels for March delivery.
Elsewhere, certain Latin American heavy crudes have strengthened as a July accident at Mexico's largest floating platform continues to prevent it from fully loading supertankers. Petroecuador recently sold 720,000 barrels of Ecuadorian Napo crude to Trafigura for $2.40 a barrel below WTI prices. That compares to the $4.68 a barrel discount to WTI for which Napo was previously sold.
The amount of oil stored on giant tankers at sea is also dwindling, the latest sign the market is whittling away a glut built up earlier in the year. Floating storage fell 11% last week to 86 million barrels, according to Vortexa Ltd.
Other oil-market news:
OPEC has rescheduled its Joint Technical Committee and Joint Ministerial Monitoring Committee meetings to January, the cartel said Monday in a statement on its website.
Exxon Mobil Corp. announced new emissions targets and plans to publish data on pollution stemming from its products just days after activist investors criticized the oil giant's environmental record.
After years in the shadow of the U.S. shale boom, the Canadian oil sands are emerging from 2020's historic market crash with a slew of upbeat outlooks from Wall Street equity analysts.
--With assistance from Lucia Kassai.
© 2020 Bloomberg L.P.
Generated by readers, the comments included herein do not reflect the views and opinions of Rigzone. All comments are subject to editorial review. Off-topic, inappropriate or insulting comments will be removed.