Oil Prices Down Amid Ramped Up Trade War
by Matthew V. Veazey
|
Rigzone Staff
|
Monday, August 05, 2019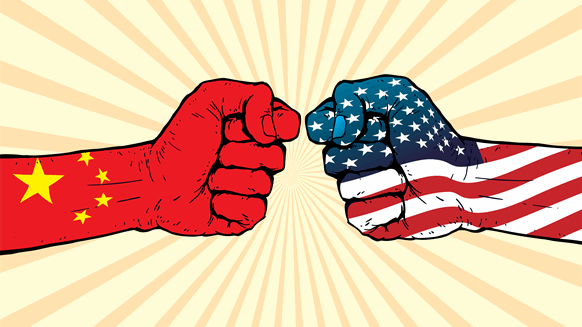 A new twist in the ongoing US/China trade war placed downward pressure on WTI and Brent crude futures Monday.
A new twist in the ongoing trade war between the United States and China placed downward pressure on West Texas Intermediate (WTI) and Brent crude futures Monday.
The September WTI contract price lost 97 cents Monday, settling at $54.69 per barrel. The light crude marker traded within a range from $54.22 to $55.61.
Falling more sharply was the October Brent, which shed $2.08 to end the day at $59.81 per barrel. As Rigzone's three-month Brent price chart shows, the benchmark last settled below $60 on June 12, 2019.
"Nothing but bad news as far as the eye can see, and it's driving down crude prices," said Tom McNulty, Houston-based managing director with Great American Group.
A major reason for the drop in prices stems from heightened fears that the U.S./China trade war will grow worse, a Bloomberg article posted to Rigzone earlier Monday states. In fact, the news service reported an escalated trade war's effects on oil demand could outweigh the bullish effect of rising tensions in Iran.
In response to the Trump administration's announcement last week that it would impose additional tariffs on products made in China, China's central bank has allowed the Chinese Yuan Renminbi (CNY) currency to decline in value.
"Events over the past few days have clearly changed the economic landscape, with the U.S. decision to slap tariffs on anything and everything being imported into the country from China, and now, China's move to weaken the CNY," Jennifer Lee, economist with BMO Capital Markets, commented in a research note. "The trade war was already inflicting damage to the economy … and now, it has been ramped up."
McNulty said that some within his business circle anticipate a tougher oil price environment.
"Several of my less optimistic clients are planning for $35 to $40 WTI within the next six to nine months," he said.
The price of reformulated gasoline (RBOB) also moved downward during Monday's trading. September RBOB closed at $1.72 per gallon, reflecting a six-cent decline.
Henry Hub natural gas for September delivery posted a five-cent loss to settle at $2.07.
Generated by readers, the comments included herein do not reflect the views and opinions of Rigzone. All comments are subject to editorial review. Off-topic, inappropriate or insulting comments will be removed.
MORE FROM THIS AUTHOR
Matthew V. Veazey
Senior Editor | Rigzone