Oil Prices Climb After OPEC+ Makes Deal
by Bloomberg
|
Andres Guerra Luz & Alex Longley
|
Thursday, December 03, 2020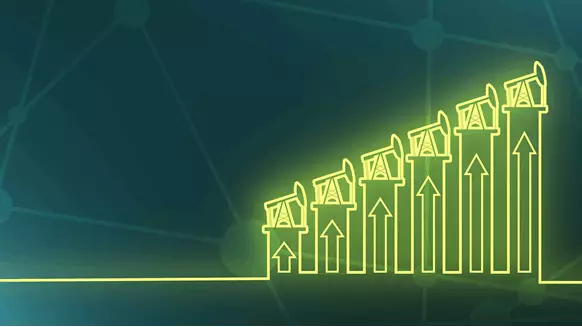 Global crude surged to the highest since early March.
(Bloomberg) -- Global crude surged to the highest since early March after OPEC+ agreed on a compromise deal to gradually ease output curbs beginning early next year.
Brent futures, the benchmark for most of the world's oil, climbed 1% in London after delegates reached an agreement for the cartel to add 500,000 barrels a day to the market in January. Ministers will now hold monthly consultations to determine how to adjust production in subsequent months, the delegate said, asking not to be named because the information was private.
The agreement took place against the backdrop of an oil futures curve that is suggesting additional production is needed. Brent's nearest futures are at a premium to later ones, a structure known as backwardation that indicates tight supply. Meanwhile, the December 2021-December 2022 spreads for both West Texas Intermediate and Brent have recently moved to backwardation and furthered their rally on Thursday.
"These are minor increases in production, they're not rolling back the entire cut," said Gary Cunningham, director of account management and research at Tradition Energy. "Meanwhile, euphoria from a vaccine eventually helping support economic conditions is helping offset production increases."
The market had widely expected OPEC+ to extend current production cuts by a quarter, but that option ran into obstacles earlier this week amid a clash between Saudi Arabia and the United Arab Emirates. Maintaining the delicate balance the oil market finds itself in has been a complex task, with demand recovering at varying speeds worldwide and prospects for a vaccine buoying the outlook further out even as near-term risks persist.
The new agreement keeps in place additional compensation cuts until March for members who failed to fully implement their supply curbs in previous months. Meanwhile, Russian Deputy Prime Minister Alexander Novak signaled optionality in the gradual tapering plan, saying adjustments to the output deal can be made in either direction.
"There's some relief the meeting didn't fall apart and that OPEC+ is still functioning," said Andrew Lebow, senior partner at Commodity Research Group. "But as prices rally, there's going to be an incentive for producers to want to sell extra barrels, so keeping to this 500,000 barrel a day increase may be quite difficult."
Prices
West Texas Intermediate for January delivery rose 36 cents to settle at $45.64 a barrel, the highest in more than a week
Brent for February settlement gained 46 cents to $48.71 a barrel
At the same time, hopes for another round of U.S. fiscal stimulus are raising the prospect of a more immediate boost to demand ahead of a widespread vaccine rollout. While Democrats and Republicans remain at an impasse that's lasted since the summer, Senate Majority Leader Mitch McConnell said Thursday it was "heartening" that Democrats embraced a smaller price tag for a stimulus package without giving any indication he was willing to raise his own offer to get a deal.
Other oil-market news:
S&P Global Platts is considering adding a key U.S. crude grade to its North Sea benchmark, a move that could transform the way oil prices are set in many parts of the world.
Chevron Corp. followed arch-rival Exxon Mobil Corp. in cutting its long-term capital spending plans, responding to this year's slump in oil and expectations that prices won't rebound any time soon.
Norwegian General Workers Union reached an agreement with the Confederation of Norwegian Enterprise that brings an end to a guard strike that shut down helicopter traffic to North Sea oil and gas installations, according to a statement from the union.
Vitol Inc., the U.S. unit of the world's biggest independent oil trader, will pay a fine of $135 million after prosecutors accused it of schemingto pay bribes to government officials in Brazil and Ecuador.
© 2020 Bloomberg L.P.
Generated by readers, the comments included herein do not reflect the views and opinions of Rigzone. All comments are subject to editorial review. Off-topic, inappropriate or insulting comments will be removed.