Oil Price Rally Falters Amid OPEC+ Uncertainty
by Bloomberg
|
Andres Guerra Luz & Alex Longley
|
Monday, November 30, 2020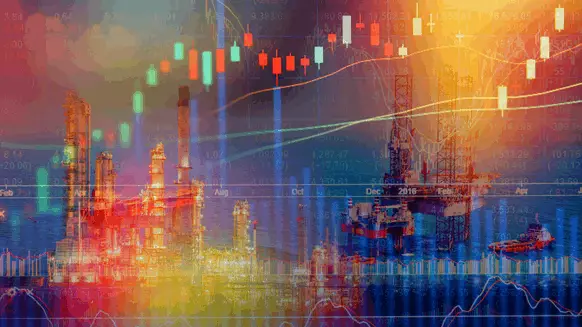 Oil's rally above $45 a barrel hit the brakes on Monday.
(Bloomberg) -- Oil's rally above $45 a barrel hit the brakes on Monday after OPEC talks ended without a clear stance on whether to delay an output increase in January.
Futures extended losses after closing 0.4% lower in New York following news that members of the cartel rescheduled a meeting with allies to Thursday. Further talks were needed after members failed to reach an agreement among themselves. This month's price jump has some countries questioning the need to extend production curbs that are set to expire.
"Our expectations is that they do roll the cuts forward into mid-next year, but the ground is shakier, and like always, it's about what is Saudi thinking," said Vikas Dwivedi, a global energy strategist for Macquarie Group Ltd in Houston. "As price goes up, it's going to be a lot more tempting for countries to try and put more production on the market."
Despite the OPEC+ tension, U.S. benchmark crude rose 27% in November, the biggest monthly increase since May, after Moderna Inc. offered the latest in a string of Covid-19 vaccine breakthroughs that are buoying the outlook for a fuel consumption rebound.
Failure by OPEC+ to agree on extending output curbs would see producers restore about 1.9 million barrels a day in supply, potentially pushing the global market back into surplus at a time when demand remains depressed due to the pandemic. The alliance has been widely expected to maintain the current output level.
"Getting the OPEC participants to agree shouldn't necessarily be a tall order," said Tom Finlon of GF International, but it doesn't account for the rising production from Iran, Libya and Venezuela, which are exempt from the agreement. With the extra supply "in the face of coronavirus when U.S. gasoline demand is closer to 8 million barrels a day than 9 million barrels, you can't keep the market up this high."
While a majority of OPEC watchers are expecting a three-month delay to the planned output increase, a recent price rally may complicate talks. Some producers such as Iraq -- which is seeking cash upfront for a long-term crude-supply contract -- are keen to pump more. Six of the 10 countries bound by the production agreement had not implemented their cuts in full by the end of October, according to a table prepared for the JMMC meeting.
Algerian energy minister Abdelmajid Attar, who holds OPEC's rotating presidency, said at the start of Monday's talks that the road to recovery may be long and bumpy, urging the producer group to be cautious in the first quarter. Additionally, Saudi Arabia said it's mulling resigning as co-chair of the OPEC+ Joint Ministerial Monitoring Committee.
Prices
West Texas Intermediate crude for January delivery declined 19 cents to settle at $45.34 a barrel
Brent for January settlement, which expires Monday, fell 59 cents to end the session at $47.59 a barrel.

The more actively traded February contract lost 37 cents to $47.88 a barrel
The recent rally in headline crude prices has been accompanied by a swift reshaping of oil's forward curve. The spread between WTI's nearest December contract began trading at a premium last week to the December 2022 contract. The bullish structure, known as backwardation, signals growing market expectations for the supply and demand balance to improve further out.
Meanwhile, China is continuing its robust rebound from the virus-induced crash. Alongside strong manufacturing data, at least one fuel supplier is gearing up for an expected surge in air travel ahead of the Lunar New Year holiday in February. However, Indian diesel sales are slipping again, with a festive-season demand boost proving fleeting.
Yet, the pace of demand recovery has varied across the world. In the U.S., gasoline demand last week was down by more than a quarter year-over-year, according to GasBuddy, as the country's Thanksgiving holiday failed to coax Americans back onto the road. Meanwhile, Turkey announced a nationwide weekday curfew as cases surge across Europe.
Other oil-market drivers
A group of oil traders whose positions are often overlooked by much of the market have quietly built up a huge bet on lower crude prices.
Abu Dhabi National Oil Co. is a potential contender to buy a local offshore oil-services firm that counts the state-owned crude producer among its major clients, according to people familiar with the matter.
China's third-biggest oil company faces a U.S. blacklist, which could spur major outflows from its Hong Kong-listed unit, after years of involvement in offshore drilling in disputed South China Sea waters.
© 2020 Bloomberg L.P.
Generated by readers, the comments included herein do not reflect the views and opinions of Rigzone. All comments are subject to editorial review. Off-topic, inappropriate or insulting comments will be removed.