Oil Jumps Most on Record After Attack
by Bloomberg
|
Serene Cheong and Dan Murtaugh
|
Monday, September 16, 2019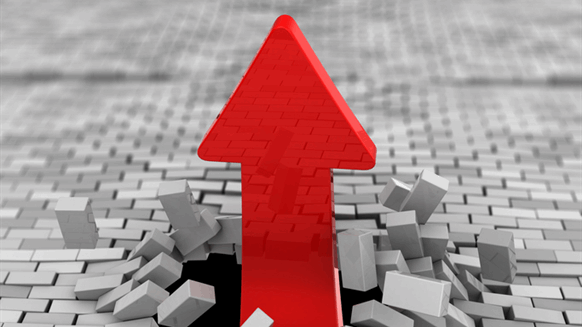 Oil posted its biggest ever intraday jump to more than $71 a barrel after a strike on a Saudi Arabian oil facility removed about five percent of global supplies.
Brent jumped more than 19% to $71.95 a barrel on ICE Futures Europe, its biggest gain in percentage terms since 1991. In the ensuing hours, it pared that advance to trade 8.8% higher at $65.50 a barrel. The global benchmark crude could rise above $75 a barrel if the outage at Abqaiq lasts more than six weeks, Goldman Sachs Group Inc. said in a note.
Trading in WTI was frozen for a few minutes because of a so-called circuit breaker, which is triggered by a gain of more than 7%. When they finally opened, futures jumped as much as 15.5% to $63.34, the most since 2008.
The attacks "set the stage for a Monday morning mini-massacre of any market participants holding short positions or bearish expectations," said John Driscoll, chief strategist at JTD Energy Services Ltd. in Singapore. The "price move was exacerbated by the unprecedented magnitude of the outage on the world's key supplier and the potential for escalation of geopolitical skirmishes involving the U.S., Saudi and Iran."
The drama wasn't limited to flat prices. The spread between Brent and WTI widened as much as 37%, showing that the oil spike will affect global prices more than those in the U.S., where shale output and ample supplies provide more of a buffer.
Brent's 6-month backwardation jumped to the highest level since September 2013 as the outage raises concerns about obtaining near-term supplies. And the call-put skew flipped into positive territory for the first time since 2018, indicating that options traders are willing to pay more to place a bet on prices rising rather than falling.
--With assistance from Nayla Razzouk, Javier Blas, Anthony DiPaola, David Marino, James Thornhill, Michael Roschnotti, Tina Davis, Stephen Stapczynski, Sharon Cho, Ann Koh, Heesu Lee, Sarah Chen and Ramsey Al-Rikabi.
To contact the reporters on this story:
Serene Cheong in Singapore at scheong20@bloomberg.net;
Dan Murtaugh in Singapore at dmurtaugh@bloomberg.net
To contact the editors responsible for this story:
Tina Davis at tinadavis@bloomberg.net
Alexander Kwiatkowski, Andrew Janes
1
2
View Full Article
Generated by readers, the comments included herein do not reflect the views and opinions of Rigzone. All comments are subject to editorial review. Off-topic, inappropriate or insulting comments will be removed.