Oil Futures Gain Amid $2T Stimulus Hopes
by Bloomberg
|
Andres Guerra Luz & Alex Longley
|
Thursday, January 14, 2021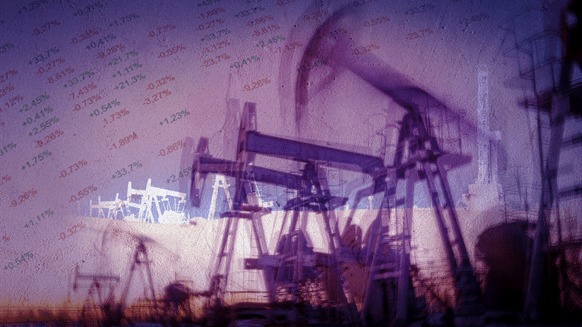 Oil rose to a new 10-month high in New York.
(Bloomberg) -- Oil rose to a new 10-month high in New York on expectations that a potential $2 trillion economic relief packaged could get Americans consuming more fuel.
U.S. benchmark crude futures advanced 1.3% on Thursday. President-elect Joe Biden's advisers recently told allies in Congress about the cost of the package, CNN reported. A weaker dollar also boosted the appeal of commodities priced in the greenback.
A stimulus package will be "putting direct money into people's pockets," said Josh Graves, senior market strategist at RJ O'Brien & Associates LLC. "In general, it's going to allow them to travel more and do more things," helping support crude demand.
Crude's recent gains have stoked concern among some investors that the rally is ahead of itself. Technical indicators suggest oil is likely due for a pullback, with the global Brent benchmark on its longest run of overbought days since 2012.
Rising U.S. jobless claims point to the bumpy road ahead for a true recovery in consumption. Europe's oil demand is also off to a sluggish start to the new year as renewed lockdowns to curb the spread of Covid-19 limit the use of road fuels. There are also signs that physical markets are softening in Asia, with Abu Dhabi's Murban crude at a discount to its benchmark despite continued OPEC+ cuts.
"To the extent the Covid situation is continuing to push back, it's a weight on the market," said John Kilduff, a partner at Again Capital LLC. "This is just a bit of a breather, given how we've come so far so fast."
Prices
West Texas Intermediate for February delivery rose 66 cents to settle at $53.57 a barrel
Brent for March settlement gained 36 cents to end the session at $56.42 a barrel
In Asia, China's economic recovery gathered pace in December as exports jumped, pushing the trade surplus to a record high. At the same time, Oil imports, however, fell about 15% compared with November.
While the China import data "has many traders and analysts scratching their heads," it seems to be "more of a timing issue rather than a structural change in demand from the world's biggest oil importer," said Ryan Fitzmaurice, commodities strategist at Rabobank.
Meanwhile, Royal Dutch Shell Plc's Nigeria unit declared a force majeure on the country's flagship Forcados crude oil, after the grade's pipeline was halted in the wake of leaks. Forcados is the country's biggest crude export system, with shipments through the terminal running at rate of between 200,000 and 250,000 barrels a day.
Other oil-market news:
The U.S. Commerce Department announced Thursday that it's blacklisting China's third-biggest oil company after years of involvement in offshore drilling in disputed South China Sea waters.
Commodities are showing "all the signs" of a structural bull market as a weak dollar makes assets priced in the greenback more alluring to investors, said Goldman Sachs Group Inc.'s Jeff Currie.
OPEC is on track with its objective to deplete the world's bloated oil inventories.
The cold snap across Asia is exacerbating a squeeze in the supply of feedstock for the region's plastic producers just as demand climbs with the return of some of the biggest processing plants after shutdowns.
© 2021 Bloomberg L.P.