Oil Floating Storage Trade Is On After Crude's Latest Dip
by Bloomberg
|
Firat Kayakiran, Javier Blas and Alex Longley
|
Wednesday, March 18, 2020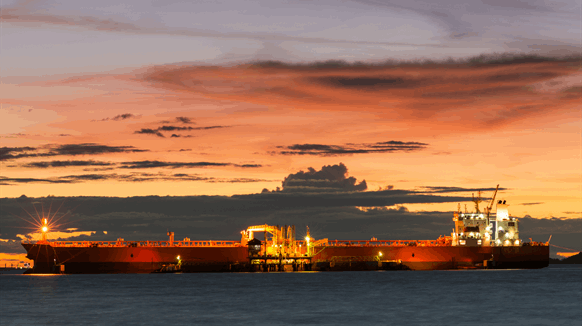 The latest collapse in oil prices has put in play a lucrative trade to store crude at sea.
(Bloomberg) -- The latest collapse in oil prices has put in play a lucrative trade to store crude at sea, reviving memories of the 2008-09 recession when millions of barrels were kept on the world's oceans.
Brent crude in May 2021 is now trading at about $14 a barrel more than it is in May of this year. That constitutes a premium of $28 million over a year for a standard supertanker cargo holding 2 million barrels. A trader can profit from floating storage by selling cargoes in the future, provided the premium they'll fetch for it would exceed the cost of hiring a tanker. Several of the world's largest trading houses said the trade is now profitable.
Near-term oil prices tumbled below $25 a barrel on Wednesday after Saudi Arabia made further comments about supplying huge amounts of crude into a market where demand has been ravaged by the coronavirus. That deepened immediate discounts, increasing the attractiveness of floating storage. A surge in freight costs also appears to have abated for the time being, further helping the storage trade, one shipbroker said.
Based on current daily charter rates, a supertanker would cost anywhere between $18 million and $25 million to hire for 12 months, depending on the quality of the vessel, according to estimates from shipbrokers. Traders also have to pay financing costs although those aren't generally thought to be prohibitive.
While longer-term storage plays look profitable, a surge in freight rates in recent weeks means that shorter durations are less clear-cut. Those may depend on the type of ship being booked, a shipbroker said.
--With assistance from Firat Kayakiran.
To contact the reporters on this story:
Firat Kayakiran in London at fkayakiran@bloomberg.net;
Javier Blas in London at jblas3@bloomberg.net;
Alex Longley in London at alongley@bloomberg.net
To contact the editors responsible for this story:
Alaric Nightingale at anightingal1@bloomberg.net
Brian Wingfield
Generated by readers, the comments included herein do not reflect the views and opinions of Rigzone. All comments are subject to editorial review. Off-topic, inappropriate or insulting comments will be removed.