Oil Falters as Trump Ups Pressure
by Bloomberg
|
Tsuyoshi Inajima
|
Wednesday, September 26, 2018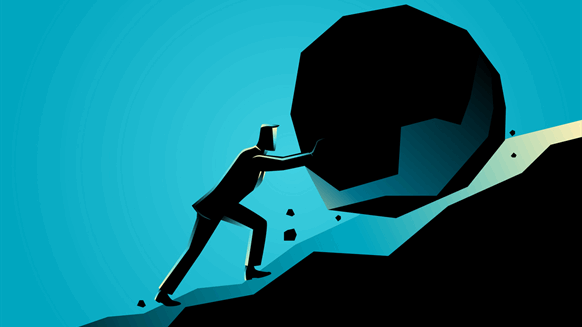 Oil traded near $82 a barrel after President Donald Trump resumed his attack on OPEC.
(Bloomberg) -- Oil traded near $82 a barrel after President Donald Trump resumed his attack on OPEC while Goldman Sachs Group Inc. poured cold water on forecasts for $100 crude.
Brent futures in London were little changed. In a speech at the United Nations, Trump ratcheted up pressure on OPEC nations with a threat to demand payment for U.S. military protection after they ignored his call last week to reduce prices. In contrast to trading-giant bulls, Goldman Sachs said catalysts beyond Iranian sanctions are needed for a meaningful rally. A surprise gain in American crude inventories also weighed on sentiment.
Oil prices rose on Monday after the Organization of Petroleum Exporting Countries signaled it won't rush to release more oil into the market, shrugging off pressure from Trump who has been calling on the group to do more to temper gains. The prospect of tightening supplies due to a steep drop in Iran's exports, Venezuela's slumping output, and production bottlenecks in U.S. prompted trading giants Mercuria Energy Group Ltd. and Trafigura Group to warn oil could surge back above $100 a barrel.
"Trump demanded in a very strong tone at the United Nations that OPEC push down crude prices, triggering profit taking," said Takayuki Nogami, chief economist at Japan Oil, Gas and Metals National Corp. Still, "as investors aren't convinced Trump's latest call can force OPEC to change its course, prices will unlikely keep falling."
Brent for November traded at $82.03 a barrel, up 16 cents, on the ICE Futures Europe exchange at 3:59 p.m. in Tokyo, after settling Tuesday at the highest level in almost four years. The global benchmark traded at a $9.74 premium to West Texas Intermediate.
WTI for November delivery fell as much as 45 cents to $71.83 a barrel on the New York Mercantile Exchange and traded at $72.24. The contract climbed 20 cents to $72.28 on Tuesday. Total volume traded was about 25 percent below the 100-day average.
Shanghai crude futures for December delivery climbed 0.9 percent to 554.2 yuan. The contract added 3.2 percent on Tuesday.
Less than a week after Trump criticized OPEC for pushing for higher prices, he blasted the group again on Tuesday. OPEC is "ripping off the rest of the world," Trump said in a speech to the UN General Assembly in New York. "We want them to stop raising prices. We want them to start lowering prices and they must contribute substantially to military protection from now on," he said.
Although OPEC and allies stopped short of pledging an immediate production boost earlier this month, the group's guidance still implies an incremental 500,000-barrels-a-day production increase, Goldman analysts wrote in a note Tuesday. The bank said it believes OPEC and Russia will offset supply losses out of Iran, and a large jump in prices would likely lead to Trump authorizing a release from the country's strategic reserves.
Other oil-market news:
India is not planning to buy any crude oil from Iran in November, raising the prospect that Tehran will lose another major customer as U.S. sanctions hit. U.S. crude inventories rose 2.9 million barrels last week, the American Petroleum Institute was said to report, despite expectations government data due Wednesday will show a decline of 1.5 million barrels. A clutch of oil buyers in the world's top market are facing an existential crisis, forcing them to band together or face the prospect of perishing.
To contact the reporter on this story: Tsuyoshi Inajima in Tokyo at tinajima@bloomberg.net To contact the editors responsible for this story: Pratish Narayanan at pnarayanan9@bloomberg.net Ovais Subhani, Anna Kitanaka
Generated by readers, the comments included herein do not reflect the views and opinions of Rigzone. All comments are subject to editorial review. Off-topic, inappropriate or insulting comments will be removed.