Oil Drilling in Russia Could Fall 20% Next Year
by Bloomberg
|
Dina Khrennikova, Olga Tanas & David Wethe
|
Thursday, October 15, 2020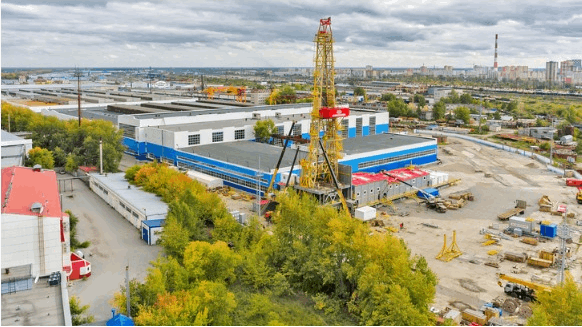 Russia's producers, which have reduced oil drilling by as much as one-third so far this year, may cut it by a further 20% in 2021, says an oilfield services exec.
(Bloomberg) -- Russia's crude producers are looking to cut 2021 drilling as the pandemic threatens the recovery of prices and global demand, according to one of the country's top-three independent oil-service providers.
The nation's producers, which have reduced oil drilling by as much as one-third so far this year, may cut it by a further 20% in 2021, said Vitaly Dokunikhin, chief executive officer at Eriell Russia.
Russia has made unprecedented output cuts this year under a deal with the Organization of Petroleum Exporting Countries that's set to last through April 2022. Though that helped support crude prices, they are again under pressure as the coronavirus surges, and threatening oil drilling everywhere. OPEC and its allies are also debating whether to proceed with their plan to ease the curbs from January.
"The year 2021 doesn't look too good" for oil-service providers in Russia, Dokunikhin said in an interview. "Amid expectations of suppressed demand, very specific discussions are ongoing about reductions" of drilling volumes, he said, referring both to talks with Eriell's clients and industry-wide discussions.
The conversations with oil producers come after some respite in the summer when drilling picked up on short-lived oil price recovery, he said.
Oilfield spending in Russia and the former Soviet Union is expected to tumble 31% this year to $38.7 billion, according to Evercore ISI. That would make it the world's third-hardest hit by the crude crash, behind North America and Africa. The Russian oil-service market may halve in 2020-2021 compared to last year, Energy Minister Alexander Novak said in a column for the September issue of the Energy Policy magazine.
The cuts so far have mainly affected more expensive exploration drilling, as well as production drilling at recently launched greenfields, including in the Arctic, according to Dokunikhin. Producers are taking a selective approach at brownfields, cutting drilling only in less economically attractive areas. Companies may take a similar approach next year, depending on oil prices, he said.
Eriell's key clients include Gazprom Neft PJSC, the oil arm of gas giant Gazprom PJSC, and the largest liquefied-gas producer Novatek PJSC. The two companies, as well as Russia's top oil producers Rosneft PJSC and Lukoil PJSC, did not respond to Bloomberg's requests for comments on 2021 drilling plans.
Baker Hughes Co. and Schlumberger Ltd. declined to comment on its 2021 outlook for the Russian drilling market. Halliburton Co. and Russia's largest independent oil service company Eurasia Drilling Co. Ltd did not respond to requests for comments.
Amid the OPEC+ deal, Lukoil has limited operations at its less economical project and distant fields where communications may be limited, Interfax reported last week citing the company's Chief Executive Officer Vagit Alekperov.
Swift Recovery
The ministry and oil producers are confident that Russian output can be restored relatively fast after the deal expires. Yet lower drilling at greenfields, including in the Arctic, may delay capacity growth at projects Russia sees as the drivers of future ramp-ups.
"Lower drilling now will result in lower production at the most promising new fields that have just started to operate," Dokunikhin said. "If we are talking about new Arctic fields, the delay may reach several years."
Plans to slash oil-drilling next year are not finalized, said Dmitry Marinchenko, a senior director at Fitch Ratings. Russian producers have a high level of flexibility, he said. However, if the global demand recovery slows, forcing OPEC+ to extend its pact, Russian producers may decide to delay planned greenfield drilling to 2022-2023, "and the setback in production capacity growth may reach one or two years," he said.
To support the beleaguered sector and prepare for the post-OPEC+ output ramp-up, Russia's energy ministry has drafted a plan to drill about 2,700 unfinished wells until April 2022. After the deal expires, those wells would be completed and ready for operation, helping to speed up the recovery of Russia's production capacity.
If implemented, drilling of the wells, which make up about 10% to 15% of Russia's market, could support the service industry, according to Dokunikhin. In the Russian oil-service business, "whether your orders fall 20% or 30% makes a difference," he said. "It means that you are either still alive or already bankrupt."
© 2020 Bloomberg L.P.
Generated by readers, the comments included herein do not reflect the views and opinions of Rigzone. All comments are subject to editorial review. Off-topic, inappropriate or insulting comments will be removed.