Oil at 3-Year High amid Supply Risks
by Bloomberg
|
Jessica Summers
|
Thursday, June 28, 2018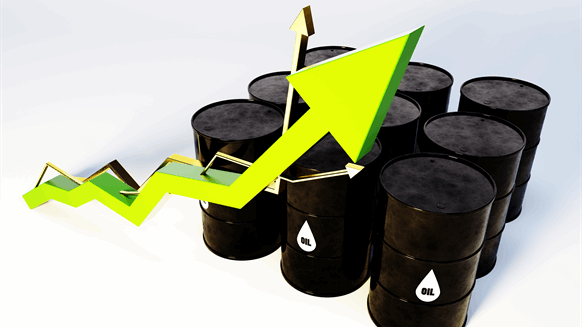 Crude closes at a 3 1/2 year high amid shrinking stockpiles in the US, disruptions at Libyan ports and other worldwide supply risks.
(Bloomberg) -- Crude closed at a 3 1/2 year high amid shrinking stockpiles in the U.S., disruptions at Libyan ports and other worldwide supply risks.
Futures rose 1 percent in New York on Thursday. Rapidly draining American surpluses are compounding real and envisioned supply interruptions in Canada, Iran, Venezuela and North Africa. Inventories stowed at the biggest U.S. pipeline hub in Cushing, Oklahoma, plunged more than 8 percent last week, the deepest cut since early February.
"You had a very significant, almost overwhelming draw in Cushing," said Thomas Finlon, director of Energy Analytics Group LLC in Wellington, Florida. "Nothing is getting better in Venezuela, Libya or Iran. The market's got to go up."
Prices also moved higher as weakness in the dollar increased the appeal of commodities priced in the greenback.
The U.S. benchmark crude has rallied more than 7 percent this week despite OPEC's pledge to relax production caps that eroded a worldwide glut. The U.S. is pushing allies to halt purchases of Iranian crude as President Donald Trump's administration seeks to punish the Islamic Republic for its nuclear program. Meanwhile, Saudi Arabia plans to pump a record amount of crude next month.
West Texas Intermediate crude for August delivery increased 69 cents to settle at $73.45 a barrel on the New York Mercantile Exchange, the highest level since November 2014.
Brent futures for August settlement advanced 23 cents to end the session at $77.85 on the London-based ICE Futures Europe exchange. The global benchmark traded at a $4.40 premium to WTI for August. The more active September Brent contract rose 15 cents to settle at $77.61.
The Bloomberg Dollar Spot Index fell as much as 0.4 percent.
Syncrude Canada Ltd. reduced planned deliveries for next month from its oil-sands upgrader in Fort McMurray, Alberta, by 92 percent after an outage last week, according to people familiar with the matter. In response, Midwest refiners probably are drawing on Gulf Coast crude supplies to offset the losses from Canada, said Paul Crovo, a Philadelphia-based analyst at PNC Capital Advisors LLC.
In Libya, a militia leader handed over control of some of the country's biggest crude-exporting terminals to a rival of the Tripoli-based state oil company. The handover involved ports with a combined export capacity of 800,000 barrels.
Other oil-market news:
Gasoline futures were little changed at $2.1329 a gallon. OPEC shipments will rise to 25.66 million barrels a day in the four weeks to July 14 versus the period to June 16, according to tanker-tracker Oil Movements.
With assistance from Tsuyoshi Inajima, Grant Smith and Sharon Cho. To contact the reporter on this story: Jessica Summers in New York at jsummers24@bloomberg.net. To contact the editors responsible for this story: Reg Gale at rgale5@bloomberg.net Joe Carroll, Carlos Caminada.
Generated by readers, the comments included herein do not reflect the views and opinions of Rigzone. All comments are subject to editorial review. Off-topic, inappropriate or insulting comments will be removed.