Norway's Plan to Dump Oil, Gas Stocks Meets Resistance
by Bloomberg
|
Mikael Holter & Sveinung Sleire
|
Friday, August 24, 2018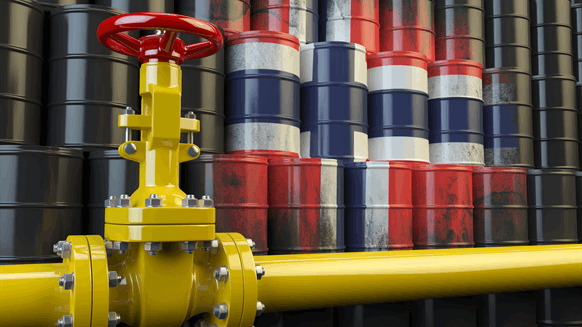 Norway's $1 trillion sovereign wealth fund is meeting resistance on its plan to dump more than $40 billion in oil and gas stocks.
(Bloomberg) -- Norway's $1 trillion sovereign wealth fund is meeting resistance on its plan to dump more than $40 billion in oil and gas stocks.
A government-appointed commission on Friday recommended against divesting petroleum stocks. Such a move will have little effect on protecting Norway against falling crude prices and alter what has so far been a successful investment philosophy, it said.
"This investment strategy is simple, well founded and has served the fund well," the three-person group of Oystein Thogersen, Harald Magnus Andreassen and Olaug Svarva said in a report. "If energy stocks are excluded from the fund, the composition of the investments will differ from market weights, and the fund will be expected to either achieve lower return or higher risk."
The government will now make its own assessment before the matter is considered by parliament. The report, together with the advice from the fund and the public consultation round, "constitute a solid foundation for decision-making," Finance Minister Siv Jensen said in a statement.
The world's biggest wealth fund shocked global markets last year when it proposed cutting oil and gas stocks from its benchmark equity index. Since then, the opposition in the Norwegian parliament has signaled it may back the plan, while the minority Conservative-led government has shied away from giving a clear signal.
Over Exposed
In its proposal in November, the fund argued that Norway as a whole was over-exposed to oil price volatility as both western Europe's largest crude exporter and an investor in the industry. Cutting oil stocks would make the country less vulnerable to a "permanent fall" in crude prices, it said.
Norway's biggest party, the opposition Labor Party, on Friday said it was still "positive" to the advice from the fund, but wants to wait for the government's analysis before taking a final stand. "A broad agreement on the management of the fund is an advantage," said Svein Roald Hansen, the party's point person on the wealth fund. "I believe we will find our way to that."
Kari Elisabeth Kaski, a lawmaker for the opposition Socialist Left, said that her main "impression" is that the report "has a very, very narrow and short-term view on climate risk and the global development in financial markets in terms of handling climate risk. That gives the report limited value."
The fund itself had no direct comment on the commission report. "We have given our advice and are now waiting for the government's decision," Deputy Governor Egil Matsen said in an emailed comment.
But the report was the second piece of good news this week for proponents of sticking to oil and gas investments. On Tuesday, the fund said it eked out a 1.8 percent gain in the second quarter, helped in large part by the 13 percent return on its oil and gas stocks. The fund held 6.2 percent of its equity portfolio in oil and gas companies, or $41 billion, at the end of June.
Shares in oil companies traded higher, with Royal Dutch Shell Plc rising as much as 1.2 percent and BP Plc as much as 0.6 percent.
Thogersen, the commission chairman, said demand for oil will likely be high even in a scenario where the world meets the two degree climate target. "We don't see that stock prices will just fall to zero in the whole sector," he said in an interview. "That's completely unrealistic."
The commission's report was met with derision by the activists and environmentalists who last year cheered the fund's proposal to divest oil and gas.
"The argument that divestment will not be 'enough' is simply not a sound financial or public policy argument, and borders on being irresponsible," said Sony Kapoor, managing director of Re-Define, a think tank. "It would seem that political considerations and the oil and gas lobby have won the day and basic risk management, sound economic analysis and common sense have lost."
Tom Sanzillo, a director at U.S. energy finance think-tank, IEEFA, said the recommendation "will prove to be a failure and the Norwegian Government will be forced to change this as fossil fuel investments continue to drag down global investment indexes and the Norwegian economy."
To contact the reporters on this story: Sveinung Sleire in Oslo at ssleire1@bloomberg.net; Mikael Holter in Oslo at mholter2@bloomberg.net. To contact the editors responsible for this story: Jonas Bergman at jbergman@bloomberg.net Stephen Treloar.
Generated by readers, the comments included herein do not reflect the views and opinions of Rigzone. All comments are subject to editorial review. Off-topic, inappropriate or insulting comments will be removed.