North Dakota Bakken Oil Rises Again in Shadow of Mighty Permian
by Bloomberg
|
Robert Tuttle
|
Thursday, February 01, 2018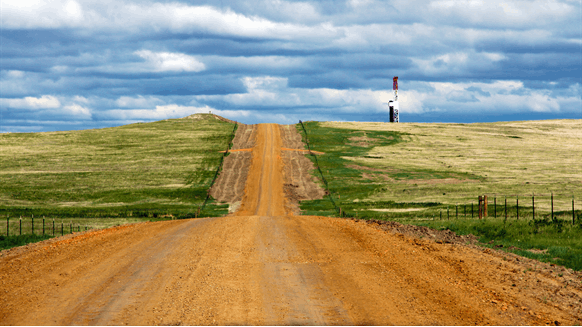 The second-largest US shale-oil play is growing in the shadow of a newer, bigger and faster-growing competitor.
(Bloomberg) -- The Bakken shale is roaring back to life, and Kevin Black sees the evidence almost every day as he looks out the window of his blue Ford F-150 pickup truck.
The president of Creedence Energy Services, which provides chemicals for oil wells, Black, 29, drives about two hours to Williston, North Dakota, at the heart of the oil-rich formation, most days. After a three-year slump in Bakken shale-oil production, he says the resurgence is unmistakable in the influx of new industrial vehicles on the road.
"There is really no room for hesitation or pessimism in the oil business if you want to be successful," he said. "If the price is there, and the market is there, operators and service providers are going to go for it."
With oil near $65 a barrel, up more than $20 from June, the Bakken, a tight-rock formation under North Dakota, Montana and Canada's Saskatchewan province, is poised to test its output record. But the second-largest U.S. shale-oil play is growing in the shadow of a newer, bigger and faster-growing competitor --- the Permian Basin in Texas and New Mexico.
Production Surge
First tapped more than a decade ago with the advent of horizontal drilling and hydraulic fracturing, the Bakken transformed North Dakota and helped position the U.S. to challenge Saudi Arabia and Russia as production leaders. Then a supply glut triggered the global market downturn, prompting OPEC and allies like Russia to trim output last year. Yet Permian production rose during the bust and is now outpacing the Bakken.
Bakken output is set to exceed the December 2014 record of 1.23 million barrels a day in the first half of 2018, Lynn Helms, director of the North Dakota Mineral Resources Department, said Jan. 16. It sank to 942,000 barrels a day in December 2016, before rebounding last year.
"We are optimistic," Helms said. "Everything points to more rigs, more frack crews, more activity in North Dakota."
New technology has made the Bakken increasingly competitive, with wells that used to take as long as 80 days to drill now done in as few as 10, said Kathleen Neset, founder of Neset Consulting Services in Tioga, North Dakota, which staffs drilling sites with geologists.
The start of Energy Transfer Partners LP's controversial Dakota Access Pipeline in June after months of protests by Native American tribes has made it easier to get oil to refineries. Bakken crude at Guernsey, Wyoming, was at a 70-cent premium to West Texas Intermediate futures Wednesday, up from a $1.85-a-barrel discount in April, data compiled by Bloomberg show. The outright price was $66.74 Jan. 26, the most in data since 2015.
Those prices make most wells that produce 500 barrels a day or more economically viable, Justin Kringstad, director of the North Dakota Pipeline Authority, said.
But the North Dakota rig count, a measure of new drilling, is down about 19 percent since July, according to Baker Hughes data. That's because most output growth comes from wells that were drilled and not completed and are now being brought into production, Neset said.
Permian Challenge
"The hindrance in the Bakken is there is a new kid in town and that new kid is faster, stronger and better looking," Peter Pulikkan, an analyst with Bloomberg Intelligence, said by phone.
Oasis Petroleum Inc., until now almost exclusively a Bakken producer, announced in December that it bought 20,300 net acres in the Permian from Forge Energy LLC for just under $1 billion. That indicates that the North Dakota play "has clearly fallen out of favor," Pulikkan said.
Very few high-production areas are left to be drilled, Mark Papa, chairman of Centennial Resource Development Inc., said on a November conference call. The Bakken and the Eagle Ford formation in Texas "are no longer the growth engines that they were four years or five years ago," he said.
1
2
View Full Article
Generated by readers, the comments included herein do not reflect the views and opinions of Rigzone. All comments are subject to editorial review. Off-topic, inappropriate or insulting comments will be removed.