Nigeria Hopes New Refinery Will Cut $26B Import Bill
by Bloomberg
|
Anthony Osae-Brown
|
Tuesday, May 23, 2023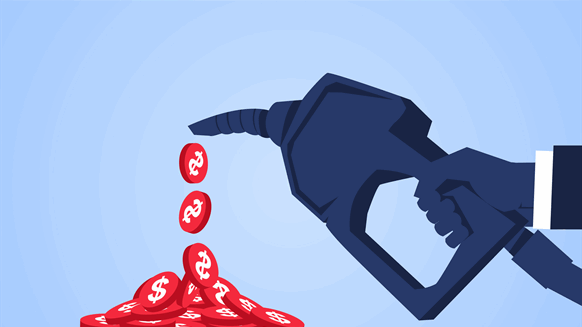 Nigeria is banking on the giant refinery to pay down $26 billion in dues for imported oil products and fertilizer.
Image by rudall30 via iStock
Nigeria is banking on the operations of a giant new refinery, built by Africa's richest man Aliko Dangote, to help it eliminate a $26 billion foreign-exchange bill on the import of petroleum products and fertilizer.
The 650,000-barrels-per-day facility comprising a petrochemical and urea fertilizer plant as well as a subsea pipeline, could start supplying its first products into the market as early as July, Dangote said at a commissioning ceremony in Lagos on Monday.
Nigeria imports almost all of its petroleum products despite being Africa's top oil producer because its refineries have been largely non-operational for decades. The import bill for refined petroleum products alone averaged $11 billion from 2014 to 2017 before rising to $23.3 billion last year, central bank Governor Godwin Emefiele said at the event. Another about $3 billion was spent on fertilizer and other petrochemicals.
"At this rate, the average annual cost of petroleum products imports to Nigeria could reach $30 billion by 2027 if we continued to rely on petroleum imports," he said.
Dangote was confident that the refinery, the biggest on the continent, will meet local fuel demand of about 450,000 barrels a day by the end of the year. Another 40% of production would be exported, once the plant is fully operational, he said, without giving a timeline.
The development gives Dangote the possibility of dominating the refined-petroleum-products sector the way he has cement and sugar, two markets he effectively controls in Africa's largest economy.
The refinery, located in a free-trade zone in the country's commercial hub, was first mooted in 2013, but construction didn't start until 2017. Its completion was pushed back several times and it's now being delivered seven years behind its initial projected deadline in 2016.
It cost $18.5 billion to build, with 50% equity funding from Dangote and the balance in debt from mainly local banks. Only about $3 billion of the liabilities are outstanding, with Dangote having paid down the rest ahead of the refinery starting operations, Emefiele said.
When fully operational, the complex is expected to earn as much as $21 billion in annual income, according to documents distributed at the commissioning.
The refinery is a "significant milestone for Nigeria's economy and a game changer for the downstream petroleum products market in the entire African region," said Muhammadu Buhari, who ends an eight-year tenure as the nation's president next week.
What do you think? We'd love to hear from you, join the conversation on the Rigzone Energy Network.

The Rigzone Energy Network is a new social experience created for you and all energy professionals to Speak Up about our industry, share knowledge, connect with peers and industry insiders and engage in a professional community that will empower your career in energy.