NextEra-Backed Venture Trucks LNG to Northeast
by Bloomberg
|
Naureen S. Malik
|
Tuesday, June 18, 2019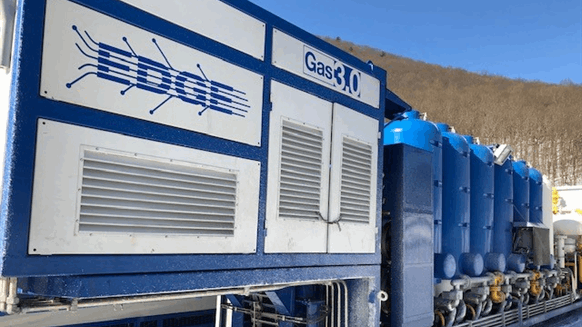 Edge Gathering Virtual Pipelines 2 LLC, a venture backed by NextEra Energy Inc. is trucking natural gas from the Marcellus Shale to New England.
(Bloomberg) -- A venture backed by NextEra Energy Inc. is trucking natural gas from the Marcellus Shale to New England, where pipeline bottlenecks have helped send prices for the fuel soaring in the winter.
Closely held Edge Gathering Virtual Pipelines 2 LLC is using tractor trailers to treat gas, chill it and truck it from northeastern Pennsylvania to Rhode Island, Chief Executive Officer Mark Casaday said in a telephone interview. NextEra Energy Marketing LLC, a subsidiary of the biggest North American utility owner, is a shareholder in the company and the exclusive sales and marketing partner for the fuel.
Gas explorers are looking for new ways to get their supply to market as multibillion-dollar pipeline projects to transport shale gas to consumers in the Northeast stall amid opposition. The Trump administration has sought to speed up approval of gas lines, which have faced legal and regulatory roadblocks amid concern about fossil fuels' contribution to climate change.
"By next year this time we will probably have increased our production five or 10 times" as more Marcellus producers sign on, Casaday said. "It's pipeline constraints, but it's also the connectability of pipelines. A lot of wells are in no man's land."
New Fortress Energy LLC, founded by billionaire Wes Edens, is also considering trucking Marcellus LNG north. Casaday said Edge Gathering is in discussions to haul supply from the Permian Basin of West Texas and New Mexico and the Bakken formation in North Dakota and Montana, where gas is a byproduct of oil drilling and is often burned off in a process known as flaring.
Edge's first Pennsylvania project can produce the equivalent of 1 million cubic feet a day, or two truckloads, according to Casaday. Other Edge backers include LNG equipment maker Galileo Technologies SA and private equity firm Blue Water Energy LLP.
To contact the reporter on this story:
Naureen S. Malik in New York at nmalik28@bloomberg.net
To contact the editors responsible for this story:
Simon Casey at scasey4@bloomberg.net
Christine Buurma
Generated by readers, the comments included herein do not reflect the views and opinions of Rigzone. All comments are subject to editorial review. Off-topic, inappropriate or insulting comments will be removed.