Mexico Fuel Sellers Said to Seek Pemex Alternative
by Bloomberg
|
Amy Stillman
|
Friday, January 11, 2019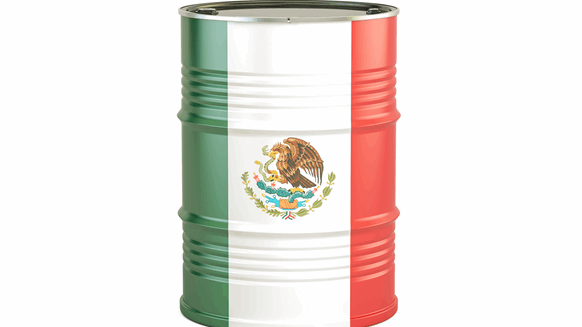 Private gasoline retailers are scrambling for alternatives to state-owned Pemex to supply their service stations in Mexico that are running out of fuel.
(Bloomberg) -- Private gasoline retailers including BP Plc and Repsol SA are scrambling for alternatives to state-owned Pemex to supply their service stations in Mexico that are running out of fuel. That could be easier said than done, however.
Companies that have relied on Petroleos Mexicanos for supply could turn to private truckers to carry gasoline and diesel from ports to their stations, according to people with knowledge of the situation. The firms are also evaluating importing fuel by rail and ship. Pemex's fuel pipelines, shut as part of President Andres Manuel Lopez Obrador's efforts to rein in fuel theft, are not expected to fully reopen for several months, two of the people said.
Given that tankers holding the equivalent of about 16 percent of Pemex's daily fuels sales are waiting at Mexico's ports, importing more gasoline and diesel may be a challenge.
The government's actions, including shutting Pemex pipelines and increasing surveillance of refineries and terminals since the weekend, have led to major distribution delays and sparked nationwide shortages at gas stations. Gasoline supply will begin to normalize bit by bit, Lopez Obrador has said.
Some of the world's biggest oil companies, including Exxon Mobil Corp., Koch Industries Inc. and Glencore Plc, have piled into the Mexican fuel market over the past several years following landmark legislation in 2014 that ended Pemex's monopoly in the sector. Pemex still owns a majority of Mexico's distribution networks and infrastructure, however, with only a handful of private importers such as Koch and Glencore moving their own product into the country.
Pemex is prioritizing its own service stations before supplying private clients such as BP, according to one of the people. For example, only about 20 fuel trucks a day are arriving to supply all of the service stations in Toluca in the state of Mexico whereas BP alone relies on 26 fuel trucks a day to supply its fuel stations there, the person said.
Mexico's Energy Regulatory Commission has granted permits to only 15,334 vehicles to transport fuel, of which only 36 percent are located in the six states and federal district that have reported supply problems, Mexico's El Economista reported.
BP Mexico representative Olaf Carrera declined to comment on the information. Repsol didn't immediately return an email for comment after normal business hours.
Port Congestion
The problem is compounded by congestion at Mexico's Gulf coast fuel import terminals as weather-related port closures in the past months have resulted in record numbers of ships waiting to unload fuel cargoes. Pemex could divert the tankers to the Pacific coast, which would significantly raise costs, said a person familiar with the matter. So far, PMI has continued to make fuel purchases in spite of the backlog, the person said.
At least 33 tankers carrying 7 million barrels of gasoline, diesel and jet fuel -- about 16 percent of the refined products Pemex sold in Mexico in November -- were waiting late Thursday at Mexico's ports to unload, with some there since December 25, according to shipping reports seen by Bloomberg. The bulk of them are stuck at the Gulf Coast ports of Pajaritos and Tuxpan, where there are a combined 21 tankers carrying about 5.4 million barrels. Demurrage, or fees for detaining vessels beyond the scheduled time, typically run about $22,000 to $24,000 a day.
The lack of fuel in various states in the country and transport by truck will last "as long as is necessary," said Energy Secretary Rocio Nahle during a visit to the Minatitlan refinery on Thursday.
To contact the reporter on this story: Amy Stillman in Mexico City at astillman7@bloomberg.net. To contact the editors responsible for this story: David Marino at dmarino4@bloomberg.net Mike Jeffers.
Generated by readers, the comments included herein do not reflect the views and opinions of Rigzone. All comments are subject to editorial review. Off-topic, inappropriate or insulting comments will be removed.