Meeting the Corrosion Protection Needs of the Booming Oil, Gas Industry
Merrick Alpert
|
Friday, February 16, 2018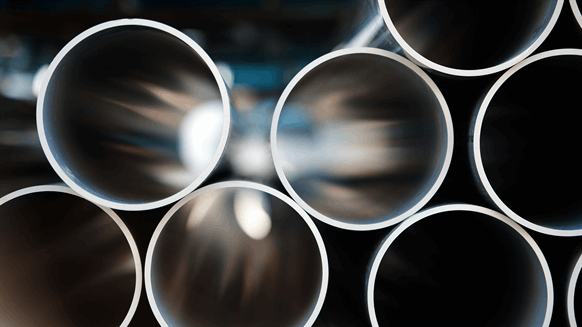 With the surge of pipelines in the US pipeline protection should be at the forefront.
This opinion piece presents the opinions of the author.
It does not necessarily reflect the views of Rigzone.
In the past three years, the United States has passed both Russia and Saudi Arabia as the globe's top producer of oil and natural gas; this past year, the U.S. experienced multiple weeks where it exported as much oil onto the world market on a daily basis as Nigeria or Venezuela.
As American pipelines are flowing like never before — and being developed at energetic rates — the threat of corrosion lingers as a costly, dangerous reminder of the need for pipeline protection. A 2016 study by the National Association of Corrosion Engineers (NACE) pegged the global cost of corrosion at $2.5 trillion. If the industry continues its upward trajectory, the financial impact of corroded steel pipelines will multiply.
Traditional strategies for corrosion prevention won't be enough. Oil and gas leaders in the U.S. must implement forward-thinking strategies to combat and prevent pipeline corrosion if we hope to see the industry thrive.
Oil and Gas Production is Strong, But Our Pipelines Aren't
Merrick Alpert
President, EonCoat, LLC
According to the Interstate Natural Gas Association of America (INGAA), gas consumption in the United States and Canada will increase by an average of 1.2 percent each year through 2035, which will result in more than half a million miles of new pipeline being built. That's enough pipeline to stretch to the moon and back again with tens of thousands of miles left over. The cost of new pipelines has risen to approximately $155,000 per inch-mile, according to the Oil and Gas Journal's Annual Pipeline Economics Special Report, with variable costs associated by grade of pipe and location of the pipeline.
With oil production expected to surpass the all-time record of 10 million barrels daily, INGAA stresses that the capability to transport petroleum liquids to markets (i.e. a pipeline network) is of paramount importance for productivity.
America laid the vast majority of its network of pipelines prior to 1970, and the new pipes being built don't replace the outdated ones; they simply add on to the pre-existing skeleton. The majority of the pipelines are now more than 50 years old, and the dangers of steel that's damaged by corrosion remain high. Since 2009, the number of oil and gas pipeline accidents per year has risen by nearly 60 percent, largely due to corrosion.
Currently, each federal inspector tasked with monitoring these precious, aging pipelines is responsible for the oversight of more than 5,000 miles. To aid in the fight against corrosion, industry leaders are turning to new innovations and strategies.
Top-Down Integration
Reducing the risk of corrosion starts with organized and effective management strategies for corrosion prevention. All corrosion-specific working procedures and practices must be integrated downward from those at the top through plans and enablers — such as contractors, risk management teams, training and documentation. Integrating new anti-corrosion strategies relies on those in leadership roles to listen to and address the concerns of those at lower levels of the organization; a shared understanding ensures compliance and fosters a unified culture.
Without a true sense of "buy-in" from everyone involved, even the best-planned initiatives can fail. In order to keep up with the rapid growth of the oil and gas industry, corrosion-reduction policies and practices must be adopted by every level of an organization.
Cutting-Edge Coatings
Anti-corrosion coatings are nothing new, but recent developments in the coatings industry promise stronger, longer-lasting protection for carbon steel. Traditional methods like coal tar enamel, fusion-bonded epoxies, metallic sprays and tape systems have existed for some time, though most require frequent (and costly) reapplication to keep working over time. Leaders in the coatings industry are exploring the development of novel methods that can offer more effective protection, while saving costs and time.
One recent research project involves a nano-coating intended to act as a triple treatment for heat exchangers used for liquid processing. This coating, developed at the Leibniz Institute for New Materials, is not only anti-corrosive, but also anti-adhesive and anti-microbial; which could ultimately reduce the cleaning effort required to keep heat exchangers free of microbe contamination.
Another development, ideal for industries that rely on steel pipeline infrastructure, is a fundamentally unique dual-layer coating system capable of long-term prevention from corrosion. This coating provides a strong, abrasion-resistant and anti-microbial solution for keeping the integrity of carbon steel intact; and only requires a single application.
1
2
View Full Article
Generated by readers, the comments included herein do not reflect the views and opinions of Rigzone. All comments are subject to editorial review. Off-topic, inappropriate or insulting comments will be removed.