Iraq's Pipeline Exports Slump After Clash With Kurds at Kirkuk
by Bloomberg
|
K. Ajrash, K. Al-Ansary, J. Lee & A. DiPaola
|
Wednesday, October 18, 2017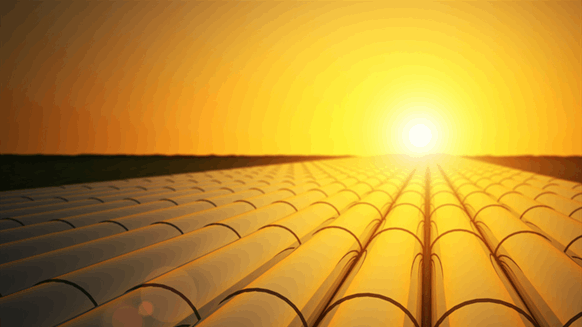 Oil exports from northern Iraq dropped by more than half as production in the country's disputed Kirkuk province slumped for a second day.
(Bloomberg) -- Oil exports from northern Iraq dropped by more than half as production in the country's disputed Kirkuk province slumped for a second day at fields that government troops captured from rival Kurdish forces.
Flows by pipeline from Iraq to the Turkish port of Ceyhan fell to about 240,000 barrels a day on Wednesday compared with their normal daily level of 600,000 barrels, according to a port agent familiar with the matter. The Kirkuk area's Avana and Bai Hassan oil fields remained shut in, with exports halted, as technicians sought to restore output, an official at the central government-run North Oil Co. said Wednesday. Both asked not to be identified discussing private information.
Iraq's Oil Ministry deployed engineering teams at Avana and Bai Hassan after workers and guards stayed away from the fields earlier this week when government troops pushed back Kurdish persmerga fighters from the area, the North Oil official said. The company won't pump any more oil from the fields than it needs to supply local needs until Iraq's central government can reach an agreement with Kurdish authorities allowing exports from Kirkuk via a Kurd-controlled pipeline to Turkey, he said. The official didn't say how much oil the two fields produced before the halt, nor when pumping might resume.
"It looks like these will be temporary disruptions," said Olivier Jakob, managing director of consultants Petromatrix GmbH in Zug, Switzerland. "It's in no one's interest to shut off the pipeline. The Kurds need the money, while the Iraqis had international support for taking Kirkuk, and they might loose some of that if they cut off oil."
Kirkuk, home to Iraq's oldest-producing oil deposits, is a fault line in the power struggle between the central government in Baghdad and the Kurdistan Regional Government. Tensions in the northern province erupted into outright hostilities between the central government and the KRG on Monday following a Kurdish referendum on independence from Iraq. The KRG included Kirkuk in the Sept. 25 referendum despite competing claims to the ethnically mixed area, which lies outside the boundaries of the KRG-ruled Kurdish region.
Iraqi forces on Tuesday regained control of oil fields and other energy facilities in Kirkuk, the Oil Ministry said. Brent crude was 19 cents higher at $58.07 a barrel on Wednesday at 3:45 p.m. in London. The global benchmark closed Tuesday at the highest since Sept. 27.
Two Suezmax tankers carrying crude from northern Iraq departed Ceyhan on Monday and Tuesday, carrying an estimated 1.6 million barrels of crude, according to the ship agent and Bloomberg Tanker Tracking. Three additional vessels were waiting near Ceyhan, scheduled to take Iraqi cargoes.
Iraq, the second-largest producer in OPEC, pumps most of its 4.47 million barrels a day from fields in the south and ships it from the Persian Gulf port of Basra. But with Iraq supplying about 14 percent of total production from the Organization of Petroleum Exporting Countries, an extended period of curtailed exports from the north could roil crude markets.
Prior to the incursion by Islamic State militant into northern and western Iraq three years ago, the government had been seeking to boost production at Kirkuk. The area, where Iraq's first well spouted crude in 1927, was mismanaged under former dictator Saddam Hussein and overtaken by giant deposits such as Rumaila in the south. Iraq turned to BP Plc in 2013 to study boosting output at Kirkuk.
Oil Minister Jabbar al-Luaibi called on BP to accelerate plans to develop Kirkuk's fields, the ministry said in a statement on Wednesday. BP will discuss any plans for Kirkuk once it receives a letter from the ministry, Bernard Looney, chief of the company's upstream division, said at the Oil & Money conference in London.
Giant Field
Of the estimated 275,000 barrels a day that had been produced at disputed Kurdish-run fields in Kirkuk, the Bai Hassan field pumped 195,000 barrels a day while the Avana Dome -- the central part of the giant Kirkuk field -- produced 80,000.
The Baghdad-controlled North Oil Co. operates the Baba Dome -- the southern part of the Kirkuk field -- along with the nearby Jambur and Khabbaz fields, for a combined output of around 90,000 barrels a day, according to a map published in February by Western Zagros, a company operating in Iraq's Kurdish region.
Baghdad piggybacks its exports from Kirkuk with Kurdish shipments through the KRG-run pipeline to Turkey, which runs to the Mediterranean port of Ceyhan. Kirkuk's fields and deposits in the Kurdish region were exporting about 600,000 barrels a day through the pipeline as recently as Monday, according to shipping agent reports and another person familiar with the matter.
With assistance from Elaine He and Rakteem Katakey. To contact the reporters on this story: Khalid Al-Ansary in Erbil at kalansary@bloomberg.net; Kadhim Ajrash in Baghdad at kajrash@bloomberg.net; Anthony DiPaola in Dubai at adipaola@bloomberg.net; Julian Lee in London at jlee1627@bloomberg.net. To contact the editors responsible for this story: Bruce Stanley at bstanley5@bloomberg.net Alaric Nightingale.
Generated by readers, the comments included herein do not reflect the views and opinions of Rigzone. All comments are subject to editorial review. Off-topic, inappropriate or insulting comments will be removed.