Intensifying Laura Set to Slam US Energy Coast
by Bloomberg
|
Brian K. Sullivan
|
Tuesday, August 25, 2020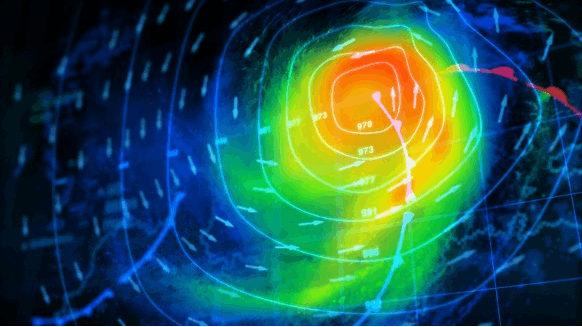 Laura's winds will likely peak at 115 miles (185 kilometers) per hour as it comes ashore early Thursday, the National Hurricane Center said.
(Bloomberg) -- Hurricane Laura is poised to strengthen rapidly and come ashore along the Texas-Louisiana coast as a tree-snapping Category 3 storm, forcing residents to flee their homes despite the threat of Covid-19.
Laura's winds will likely peak at 115 miles (185 kilometers) per hour as it comes ashore early Thursday, the National Hurricane Center said. Laura has disrupted offshore oil and natural gas production, shuttered refineries and export terminals and prompted mandatory evacuations. The storm would be the first major system to hit the Gulf Coast since Michael in 2018.
"Laura will continue to rapidly intensify over the next 24 hours before making landfall," said Elizabeth Palumbi, a meteorologist with commercial forecaster Maxar. "Models have been inching westward on where exactly Laura will approach, so any location from Corpus Christi to west-central Louisiana is currently at risk."
The tropical threat has prompted 82% of oil output and 57% of natural gas production in the Gulf of Mexico to be shut, according to the Interior Department's Bureau of Safety and Environmental Enforcement.
Gulf Coast refineries and petrochemical plants are often located in low-lying areas vulnerable to flooding. In 2017, an Arkema SA chemical plant about 25 miles east of Houston had a fire and explosion after it was flooded by Hurricane Harvey. In September, Exxon shut its Beaumont refinery in Texas because of flooding from Tropical Storm Imelda.
There is a chance wind shear could cut into Laura's top winds just before landfall, but that probably won't change the devastating impacts the storm will bring, said Rob Miller, a meteorologist with AccuWeather Inc. Laura could push sea levels 6 to 10 feet (2 to 3 meters) higher where it comes ashore, and if conditions are right, storm surge could be as high as 15 feet, Miller said.
Laura almost certainly won't be as damaging as Harvey, the last major hurricane to hit Texas. Harvey came ashore as a Category 4 storm and then got pinned in place by larger weather patterns, causing it to send record rains across the eastern half of the state for days. Laura may pack a severe punch at landfall, but it will quickly exit the area, reducing the potential for lingering effects. The last hurricane to hit Texas was Hanna in July.
Energy platforms in the Gulf of Mexico that account for as much as 17% of America's oil production and about 3% of gas output are designed to withstand storms of this magnitude; they regularly shut and restart as systems pass through.
Motiva Enterprises LLC , Valero Energy Corp. and Total SE are shutting their Port Arthur, Texas, refineries ahead of Laura. Exxon Beaumont is weighing a shutdown, people familiar with planning say.
On its current track, Laura will likely cause about $5 billion in losses, but if the intensity or track shifts for the worse, the total could run as high as $12 billion, according to Chuck Watson, a disaster modeler with Enki Research. About 10% to 12% of U.S. refining capacity could be shut for more than six months.
"I'm a bit concerned about the vulnerability of the major oil refineries that are concentrated in this area," Watson wrote on his blog.
The city of Port Arthur will order some residents to flee the storm starting Tuesday, according to the city's website. Jefferson County put in place a mandatory evacuation order for all except essential personnel such as employees of oil terminals, pipelines, oil-supply facilities, hospitals and utilities, it said in a statement.
There might be some hesitation to flee Laura because of Covid-19, "but if you live in a low-lying area near the coast, this storm is a bigger threat than the virus," Watson said.
Liquefied Natural Gas
Laura is poised to menace the epicenter of the U.S. liquefied natural gas export industry, where terminals are located.
"Although these terminals are built to withstand hurricane force winds, the storms will prevent any new vessels from approaching," Daniel Myers, an analyst at Gelber & Associates, said in report Monday.
Western sugarcane in Louisiana between Lake Charles and Lafayette will be the most at risk from Laura, said Drew Lerner, president of World Weather Inc. in Overland Park, Kansas. Things would be worse if the storm veers more to the east.
For cotton crops, some parts of western Mississippi Delta area, central and interior parts of Arkansas also could be impacted, he said.
Other impacts include:
Kinder Morgan has suspended operations at International Marine Terminal in Port Sulphur, Louisiana, and reduced operations at Harvey Terminal in Harvey, Louisiana.
Chevron shut its Fourchon and Empire oil terminals in Louisiana, and has also shut Gulf of Mexico pipelines.
Bunge has ceased operations at its grain-export facility in Destrehan, Louisiana, while Cargill has suspended operations at grain-exporting facilities in Westwego and Reserve, Louisiana.
The Louisiana Offshore Oil Port, a major crude import hub, has suspended marine terminal operations.
Texas Governor Greg Abbott, Louisiana Governor John Bel Edwards, and Mississippi Governor Tate Reeves have all declared emergencies. Laura has already killed at least nine people in Haiti and the Dominican Republic, the Associated Press reported.
Thirteen storms have now formed across the Atlantic this year, including five that hit the U.S. Tropical Storm Marco came ashore in Louisiana late Monday only to quickly fall apart.
--With assistance from Max Zimmerman, Kevin Crowley, Lynn Doan, Catherine Ngai, Serene Cheong, Marvin G. Perez, Naureen S. Malik, Isis Almeida, Barbara Powell and Sheela Tobben.
© 2020 Bloomberg L.P.
Generated by readers, the comments included herein do not reflect the views and opinions of Rigzone. All comments are subject to editorial review. Off-topic, inappropriate or insulting comments will be removed.