Halliburton Takes Fracking Fight From Oil Field to Patent Office
by Bloomberg
|
Susan Decker, David Wethe & Christopher Yasiejko
|
Tuesday, February 06, 2018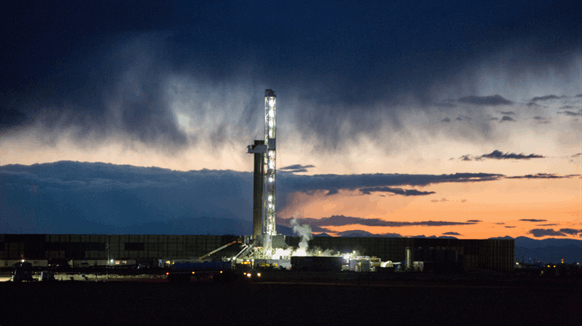 Halliburton Co. isn't content to limit its battle for market share with Schlumberger Ltd. to the oil field these days.
(Bloomberg) -- Halliburton Co. isn't content to limit its battle for market share with Schlumberger Ltd. to the oil field these days. It's opened a new front in an unlikely place: the patent office.
The Houston-based provider of drilling services is waging an aggressive campaign to persuade the U.S. Patent and Trademark Office to cancel some of Schlumberger's fracking-related patents, telling the agency they're not inventions but old ideas repackaged. At the same time, Halliburton is pursuing more patents and was awarded 35 percent more in 2017 compared to the previous year.
"They're the two big dogs in the space," said J. David Anderson, an analyst at Barclays. "Halliburton and Schlumberger have been battling for that top spot in North American services for a decade, so the fact they're going after each other with patents is not surprising."
Halliburton has long been the top North American contractor while Schlumberger has dominated international markets, but they've been increasingly encroaching on each other's turf as crude recovers from its worst crash in a generation.
In North America, Schlumberger is directly challenging Halliburton's title as the top fracker after recently acquiring roughly 1 million horsepower-worth of rock-crushing pumps from Weatherford International Plc. Meanwhile, Halliburton grew at a faster pace in all international markets than Schlumberger in the final three months of last year.
Fracking, also known as hydraulic fracturing, blasts water, sand and chemicals underground to release trapped oil and gas.
Oilfield service providers such as Halliburton and Schlumberger are being asked by their customers for greater technology to help them do more with less so they can be more prudent with spending and return cash to shareholders.
"Everybody's fighting for that small little edge," said James Wicklund, an analyst at Credit Suisse in Dallas. "You're already so deep in technology it's ridiculous."
Patents can help provide an edge and Halliburton has racked up some early wins. Since December, the Patent Trial and Appeal Board has agreed to review the validity of six Schlumberger patents after making a preliminary finding that Halliburton had shown a "reasonable likelihood" of winning its arguments.
Schlumberger has given up on one of the patents; and the board is considering Halliburton challenges on four others. Final decisions on the patents under review are expected by the end of the year.
Among the Schlumberger patents Halliburton has challenged are those covering the use of fiber optic tools to monitor interior well conditions, sensors to collect temperature readings across a broader area and ways to more precisely control where the fracking fluid goes.
Halliburton, in several petitions, said the patents are simply "a classic situation where known elements are combined according to known methods to yield predictable results."
Emily Mir, a spokeswoman for Houston-based Halliburton, said the company focuses its own research "on products and services that will improve efficiency and enhance production while reducing costs for its customers." As for the Schlumberger patents, the company "cannot comment on pending disputes," she said.
Schlumberger, in filings with the patent board, rejected Halliburton's characterizations. In individual responses, one patented invention provided "many advantages and efficiencies" while another was "a significant advance" over earlier techniques, company lawyers wrote.
1
2
View Full Article
Generated by readers, the comments included herein do not reflect the views and opinions of Rigzone. All comments are subject to editorial review. Off-topic, inappropriate or insulting comments will be removed.