Halliburton CEO Sees Accelerating International Rebound
|
Wednesday, April 21, 2021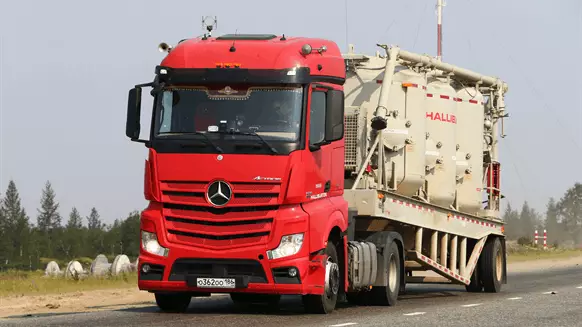 Halliburton Co. sees the pace of the rebound in overseas demand for oilfield services picking up.
(Bloomberg) -- Halliburton Co. tumbled after warning investors that demand for its oil-drilling and fracking services won't continue grow as much as it did in recent months.
The world's biggest provider of fracking services fell as much as 7.4% for the day's second-worst performance in the S&P 500 Index. North American order growth will "moderate" during the current quarter relative to the first three months of this year, while overseas drilling margins will drop as much as 1.25 percentage points. Chief Financial Officer Lance Loeffler cited a seasonal dip in sales of oilfield software.
The guidance suggests second-quarter operating income will come in below expectations, said George O'Leary, an analyst at Tudor, Pickering, Holt & Co. Confidence that oil prices will continue to strengthen has taken a hit from worries about resurgent Covid-19 outbreaks in India and elsewhere.
"That stung," O'Leary said in an email. Halliburton needs "positive earnings momentum or stronger crude to keep the run going."
Halliburton dropped 5.8% to $18.67 at 11:40 a.m. in New York, paring its 12-month gain to 151%.
Halliburton and rival Baker Hughes Co. both reported better-than-expected first-quarter results on Wednesday. Halliburton Chief Executive Officer Jeff Miller said overseas demand for oilfield services will rebound later in the year on expectations that global crude prices will advance.
"I expect international activity growth to accelerate, and the early positive momentum in North America gives me confidence in the activity cadence for the rest of the year," Miller said in a statement. "I am optimistic about how this transition year is shaping up."
Along with the world's top oilfield contractor Schlumberger, Baker Hughes and Halliburton are attempting to pivot to overseas markets and away from the North American shale sector that's still trying to claw its way out of last year's historic price collapse. Halliburton's results come three months after Miller called for a bottom in international activity in the first quarter.
Schlumberger is scheduled to report fiirst-quarter results at the end of this week.
--With assistance from Karen Lin.
© 2021 Bloomberg L.P.
Generated by readers, the comments included herein do not reflect the views and opinions of Rigzone. All comments are subject to editorial review. Off-topic, inappropriate or insulting comments will be removed.