Gas Glut in Permian Sparks Dilemma Over How Much to Burn
by Bloomberg
|
Ryan Collins
|
Monday, June 04, 2018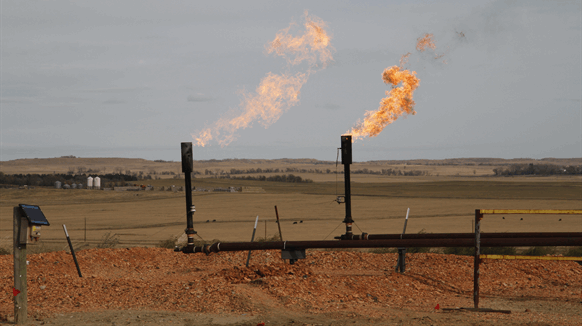 Texas is facing a burning question that's pitting the state's economy against its environment, and oil drillers against each other.
Going hand-in-hand with the financial questions are those revolving around air quality. Flaring releases toxic compounds like cancer-causing benzene and matter linked to respiratory illnesses, according to the Environmental Defense Fund, which is against increasing the duration.
Suzanne Franklin, 67, and her husband, James, can see 17 flares breathing fire into the sky from the front porch of their ranch in Reeves County. The visible pollution has definitely impacted their life. "We used to go out and look up at the stars," she said. "Now, you don't see any stars."
She believes the flaring has affected her breathing. Since the first flare was lit up about a year ago, her doctor has put her on three different medicines "just to breath right."
Seven counties in the region already rank in the top 10 nationwide for childhood asthma attacks, according to the Clean Air Task Force. More flaring could increase that standing, according to Colin Leyden, the fund's senior manager of regulatory and legislative affairs.
Last Year's Count
To this point, no increase in flaring has been needed. In the last year, the number of permits have decreased, falling to 194 in April from 217 during the same month in 2016, according to data from the railroad commission.
But even with the number of permits down, the amount of natural gas consumed by flaring is probably up, with wells more productive than they were even six months ago, said Artem Abramov, vice president of shale analysis at Rystad Energy, by telephone.
Texas now flares about 3 percent of the gas produced. Matt Portillo, analyst at Tudor Pickering Holt & Co. , said that could rise as much as five times higher in the next year.
Sitton disagrees. A primary role for the railroad commission "is to prevent waste," he said. "If you believe that waste is not dollar waste, but the waste of the hydrocarbon molecule, then we have to be very judicious about when we grant flaring exemptions. Those are the questions that we are trying to get our heads around."
With assistance from Kevin Varley. To contact the reporter on this story: Ryan Collins in Houston at rcollins74@bloomberg.net. To contact the editors responsible for this story: Reg Gale at rgale5@bloomberg.net Joe Carroll.
1
2
View Full Article
Generated by readers, the comments included herein do not reflect the views and opinions of Rigzone. All comments are subject to editorial review. Off-topic, inappropriate or insulting comments will be removed.