Gadfly: The Billion Barrels That Make or Break the Oil Market
by Bloomberg
|
Liam Denning
|
Monday, December 04, 2017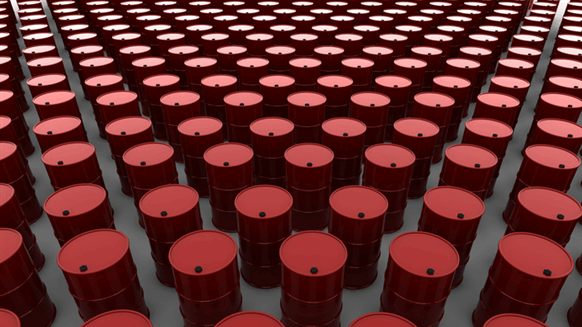 There are a billion barrels of oil simultaneously buoying the market and hanging over it like a giant storm-cloud.
(This column does not necessarily reflect the opinion of Bloomberg LP and its owners. The views expressed are his own)
(Bloomberg Gadfly) -- There are a billion barrels of oil simultaneously buoying the market and hanging over it like a giant storm-cloud.
Money managers' net length in three big crude-oil contracts -- West Texas Intermediate traded on Nymex and the Intercontinental Exchange and the latter's Brent contract -- stood at 989.9 million barrels as of Friday, a record:
Speculative inflows have been a central feature of the rally in oil prices since the summer. The whipsaw in sentiment, fueled by a mixture of OPEC recommitting to supply cuts and the resurfacing of geopolitical concerns, is striking. Break down the long and short positions for managed money and you can see the swing between elation, despair and elation again, all in the space of this year:
If anything, the swings in refined products -- looking at New York gasoline and heating-oil futures and options -- have been even more pronounced, albeit in a smaller market overall:
So the rally has been broad-based, which is encouraging for bulls. However, with the latest OPEC meting now behind us, this also represents a risk -- one hinted at by Monday's broad sell-off in crude and products.
Last week's festivities in Vienna delivered the requisite extension of supply cuts, preventing a mass exodus by hedge funds and the like. Yet the market really got nothing more or less than it was expecting. No new countries joined the pact, supply levels weren't changed, and an agreement to review conditions next June provided the potential get-out clause that many expected Russia, at least, was demanding.
Net Speculative Long Position In Crude Oil
989.9 Million Barrels
As I wrote here, the interplay of OPEC's cuts with short-cycle production from U.S. shale, longer-cycle output from Canada and Brazil, and demand add up to an oil market in 2018 where the range between despair and elation appears to be no more than $20-25 a barrel, or roughly $45 to $65 in terms of WTI. With Brent and WTI trading at about $63 and $58 a barrel, respectively, further gains require catalysts beyond business-as-usual from OPEC and its associates.
These could come from stronger demand or lackluster U.S. production growth -- something OPEC appears to be counting on, especially -- or more geopolitical tremors. The latter may well help define 2018, given the pace of change in the Middle East and the mixed messages coming out of Washington when it comes to diplomacy in the region.
Absent such impetus, those billion barrels could turn from rising tide to deluge.
Liam Denning is a Bloomberg Gadfly columnist covering energy, mining and commodities. He previously was the editor of the Wall Street Journal's "Heard on the Street" column. Before that, he wrote for the Financial Times' Lex column. He has also worked as an investment banker and consultant.
To contact the author of this story: Liam Denning in New York at ldenning1@bloomberg.net. To contact the editor responsible for this story: Mark Gongloff at mgongloff1@bloomberg.net.
Generated by readers, the comments included herein do not reflect the views and opinions of Rigzone. All comments are subject to editorial review. Off-topic, inappropriate or insulting comments will be removed.