Frigid Blast to South Hits Refineries as Power Prices Spike
by Bloomberg
|
Brian K. Sullivan & Christopher Martin
|
Wednesday, January 17, 2018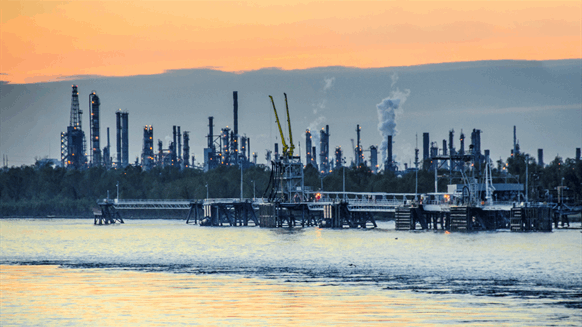 A blast of Arctic air pushing deep into the South hindered refinery operations in the region, sent natural gas prices soaring and drove electricity demand in Texas to a record high.
(Bloomberg) -- A blast of Arctic air pushing deep into the South hindered refinery and poultry operations in the region, hurt crops, sent natural gas prices soaring and drove electricity demand in Texas to a record high.
Temperatures were 17 degrees Fahrenheit (minus-8 Celsius) in Dallas early Wednesday, 20 in Houston and 21 in New Orleans, according to the National Weather Service. Readings across the South were colder than in New York and Boston, where light snow was falling.
"We are noticing single digits in portions of Mississippi, Alabama and Texas," said Marc Chenard, a senior branch forecaster at the U.S. Weather Prediction Center in College Park, Maryland "There are some record low temperatures across portions of Texas and the Mississippi Valley."
Marathon Petroleum Corp.'s refinery in Garyville, Louisiana, had a power outage early Wednesday and is working to restore normal operations. The units are said to be on circulation, heated up but unable to process anything.
Elsewhere in the state, Valero Energy Corp.'s Meraux refinery southeast of New Orleans was shut down after losing electrical power late Tuesday. The facility also lost power earlier this month after cold temperatures caused instrumentation to freeze. The company didn't immediately respond to a request Wednesday for comment about the cause of the shutdown.
Several other facilities in the region experienced minor technical issues, including Royal Dutch Shell Plc's Norco refinery and chemical complex in Louisiana and LyondellBasell Industries NV's Houston Refinery.
Natural gas prices surged as heaters and power plants kicked in to overdrive. The amount of gas burned for power in the region jumped 25 percent from Tuesday to more than 6.8 billion cubic feet, according to Bloomberg New Energy Finance analyst Jacob Fericy. Prices in the Katy Hub in East Texas rose to $8.29 per million British thermal units, the highest since February 2014.
Electricity Demand
In Texas, electricity demand reached a record for the winter heating season, hitting 65,731 megawatts between 7 a.m. and 8 a.m., up from a prior record this month of 62,855 megawatts.
The average wholesale power price in the market operated by the Electric Reliability Council of Texas Inc. briefly surged to $2,267 a megawatt-hour at 6:45 a.m. local time. That's the highest since March 2014 and more than one-hundred times above the average of $21.97 a megawatt-hour over the past year, according to Genscape. The price has since declined to $127.60 at 11:00 a.m.
One power plant tripped off line in Texas, reducing supplies shortly after midnight, and at least five coal and natural gas fueled generators increased output this morning to meet the higher demand, according to Genscape.
This is some of the coldest weather Texas has had in the last 18 years, said Katie Magee, a weather service meteorologists in Dickinson, Texas. The weather station at College Station, Texas, recorded two of its top 10 coldest days since 2000 on Tuesday and Wednesday.
Houston Hobby Airport set a daily record low temperature of 19 Wednesday, breaking the old mark set in 1965.
Crops Threatened
Crops are also threatened by the low temperatures in the South. A hard freeze warning covers parts of seven states from Texas to Florida during Wednesday and into Thursday.
The cold didn't last long enough to cause significant damage to citrus groves in Florida, said Andy Karst, a meteorologist at World Weather Inc. in Overland, Kansas. The cold may lead to "significant damage" to the sugar-cane harvest that begin on Oct. 1.
"Daytime highs today will fail to rise above freezing across almost all of the area, and those locations that do will not remain above freezing for more than an hour or so," according to a weather service bulletin in Mississippi. "This long duration of very low temperatures will once again put stress on life and property in the region as lows tonight range from 10 to 15 degrees."
Animals left outside and exposed plants can be damaged or killed by the cold temperatures, the National Weather Service said. Sanderson Farms Inc. poultry plants in Mississippi and Louisiana were closed on Wednesday
Chenard said the cold should begin to ease after Thursday. Temperatures in Dallas will reach 55 degrees Friday and 70 on Saturday. Warmer air will also sweep into Mississippi, Louisiana, Alabama and Florida.
--With assistance from Barbara Powell Ryan Collins Jessica Summers and Marvin G. Perez
To contact the reporters on this story: Brian K. Sullivan in Boston at bsullivan10@bloomberg.net, Christopher Martin in New York at cmartin11@bloomberg.net.
To contact the editors responsible for this story: Lynn Doan at ldoan6@bloomberg.net, Will Wade, Stephen Cunningham
Generated by readers, the comments included herein do not reflect the views and opinions of Rigzone. All comments are subject to editorial review. Off-topic, inappropriate or insulting comments will be removed.