Freeze Halts US LNG Exports
by Bloomberg
|
Sergio Chapa & Michael Tobin
|
Friday, February 19, 2021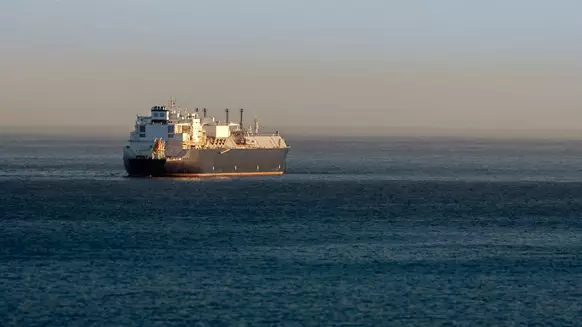 There are no LNG tankers docked at loading at any of the six US export terminals, Bloomberg reports.
(Bloomberg) -- Right now there are no liquefied natural gas tankers docked and loading at any of the six U.S. export terminals for the first time since global demand for the superchilled power-plant fuel crashed in August.
That's a highly unusual situation for the world's third-largest shipper and an indication of how far LNG trade flows have been upended by the recent freeze.
Shipping data compiled by Bloomberg shows the absence of vessels after two tankers left U.S. terminals Thursday. The last time no vessels were at any U.S. port was in late August, according to Reid I'Anson, senior commodity economist at Kpler. U.S. LNG exports fell 40% in July from a year earlier as the pandemic slowed economic growth.
The arctic blast hit that hit Texas Sunday slashed gas supplies just as demand rocketed. In response, the Freeport LNG export facility and Cheniere Energy Inc.'s Corpus Christi LNG terminal have cut their natural gas consumption to almost zero, allowing billions of cubic feet to flow to power plants and homes.
Crews are also working to place Sempra Energy's Cameron LNG in Louisiana back into service after a power failure shut down the plant.
Freezing weather in Texas is expected to end this weekend, allowing crews to restore power and other services. As that work continues, eight LNG tankers remain anchored at sea waiting to dock at Sabine Pass, Corpus Christi and Freeport.
The Bahamas-flagged tanker Magdala is expected to dock at Kinder Morgan's Elba Island LNG export terminal in Savannah, Georgia, later on Thursday. The Georgia facility wasn't affected by the extreme cold weather seen in Texas and other states.
The Bermuda-flagged tanker Gaslog Galveston departed Cheniere's Sabine Pass LNG export terminal in Louisiana and the Greek-flagged Maran Gas Tory left Freeport LNG in Texas on Thursday morning, shipping data show.
© 2021 Bloomberg L.P.
Generated by readers, the comments included herein do not reflect the views and opinions of Rigzone. All comments are subject to editorial review. Off-topic, inappropriate or insulting comments will be removed.