France Strikes Hit Oil Refineries, Rippling Across Crude Markets
by Bloomberg
|
Bill Lehane, Sharon Cho
|
Thursday, March 23, 2023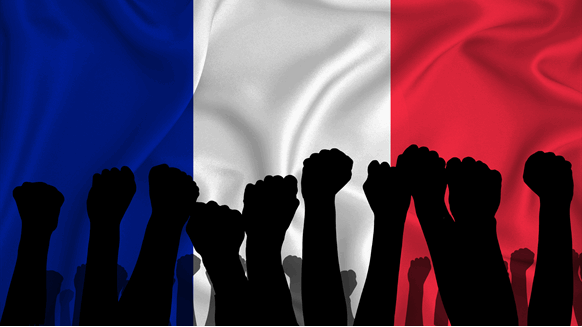 Labor strikes in the French refining sector are causing ripple effects across the global oil market.
Labor strikes in the French refining sector are causing ripple effects across the global oil market as the resulting lost demand adds to weakness caused by turmoil in the banking sector.
More than half a million barrels a day of oil processing capacity — about 0.5% of global consumption — will be halted by industrial action this month, according to industry consultant FGE. TotalEnergies SE is stopping its biggest plant in in the country.
The action, to protest against pension reform, is redrawing the crude-supply picture in Europe. It's also affected export grades that typically head to the region from the US and Africa and is even affecting the differentials of some physical crudes in Asia, according to traders. Brent futures plunged last week because of concern about stability in the global banking system.
"The French strikes are certainly weighing on physical crude," said Christopher Haines, an oil analyst at Energy Aspects Ltd, a London-based research house.
High freight rates are also dimming the appeal of barrels from West Africa and the US because European refiners' first preferences are more-local grades, he said.
In Asia, traders said the loss of French demand has helped make WTI Midland — a key US export grade — become cheap enough to compete with varieties from the Persian Gulf such as Abu Dhabi's Murban crude.
Chinese oil giants including Unipec also continued to purchase cargoes from the US and even picked up North Sea's Johan Sverdrup for the first time in three months.
Prices for Permian crude cargoes for April loading on the US Gulf have also been weakening because of the French strikes, which followed large crude flows from the US to Europe already this month.
Still Moving
In West Africa, the loss of French demand has only made it harder for crudes from top seller Nigeria to secure buyers, according to traders.
While the nation's cargoes for May are already being marketed, one consignment sold this week for loading this month. Traders said it was a very late transaction and underscored weak buying interest in Europe.
Azeri Light, a popular grade in the Mediterranean, has been hovering at about $3 to $4 per barrel more than the Dated Brent benchmark recently, said traders involved in that market. That's down from $6 to $7 a barrel premiums in January.
--With assistance from Sherry Su and Sheela Tobben.
Photo Credit – iStock.com/Kachura Oleg