Financial, Security Woes Put Libyan Oil Recovery On Shaky Ground
by Reuters
|
Ahmed Elumami & Aidan Lewis
|
Wednesday, October 18, 2017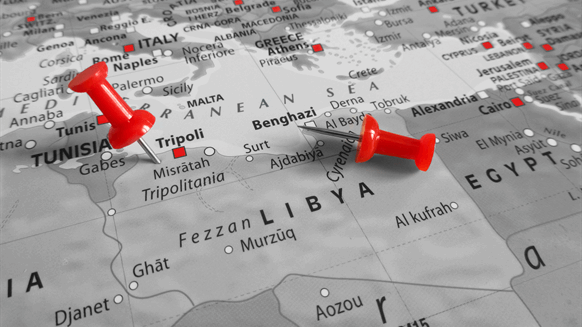 Libya's oil production revival is being undermined by the same financial, economic and security problems that threaten the promise of stability.
In the most recent incident, an armed group forced a two-day shutdown at Sharara in early October to demand salary payments, fuel supplies and the release of members that it said had been detained.
A new group called "Enough Silence", made up of young people from six districts in southern Libya, has said it will peacefully blockade supply roads to Sharara to lobby for oil revenues to be spent on the neglected south.
"The problems are endless," a spokesman for the movement, Mohamed Hamouzi, told Reuters by phone.
"We are talking about severe lack of medical, educational, and security services. There's no liquidity at all," he said, referring to severe cash shortages in banks across Libya.
"If our demands for solving these problems are not met we are going to shut down Sharara within two weeks."
On Wednesday, a group of Gaddafi loyalists posted a video of four men standing over a pipeline at an unnamed desert location, threatening to cut supplies of oil and gas to terminals in the Zawiya refinery and Mellitah complex on Libya's northern coast within 72 hours if one of their leaders was not released from jail in Tripoli.
Missing Budget
With the largest proven oil reserves in Africa, pumping more than 1.6 million bpd before 2011, Libya's production is closely watched. Along with Nigeria, it has been exempted from OPEC-led production cuts.
Adding to uncertainty are political divisions that the United Nations is trying to mend.
A current U.N.-backed government in Tripoli has been eroded by internal splits, lack of technical capacity and rejection by factions that control the eastern part of the country. It has also not been able to reverse a sharp decline in living standards or disband the many locally-rooted armed groups that hold sway in western Libya.
The World Bank projects a budget deficit this year of 22 percent, despite oil exports rising to an average of 6.2 million bpd in from January to July.
Almost all public spending goes on state salaries and subsidising basic products including imported fuel, more than 30 percent of which is smuggled back out of the country, according to NOC estimates.
Even without the disruptions, oil revenues would still not be high enough to resolve the economic troubles that many blockaders say they are protesting over.
"I think the fundamental dynamic, which is if you want your voice to be heard politically stage one is to have an armed group and stage two is to control critical infrastructure, doesn't appear to be going away," said Richard Mallinson, an analyst for Energy Aspects consultancy.
(Additional reporting by Ayman al-Warfalli in Benghazi; Editing by Sonya Hepinstall)
1
2
View Full Article
Generated by readers, the comments included herein do not reflect the views and opinions of Rigzone. All comments are subject to editorial review. Off-topic, inappropriate or insulting comments will be removed.