ExxonMobil and Chevron Report Strongest 3Q Results in 4 Years
|
Javier Blas & Kevin Crowley
|
Friday, November 02, 2018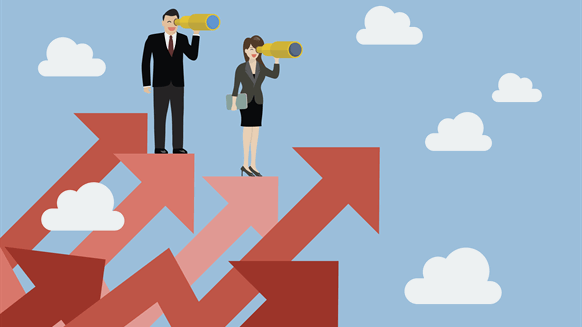 ExxonMobil and Chevron deliver their strongest third-quarter results in four years, capping a week in which Big Oil enjoyed profits not seen since the days of $100 crude.
(Bloomberg) -- Exxon Mobil Corp. and Chevron Corp. delivered their strongest third-quarter results in four years, capping a week in which Big Oil enjoyed profits not seen since the days of $100 crude.
Both companies reported double-digit production increases in the Permian Basin, the shale region in Texas and New Mexico that's propelling total U.S. oil output to an all-time high. The Permian now makes up 11 percent of Chevron's overall output and is home to Exxon's fastest-growing large project.
The two American supermajors have historically focused on multibillion engineering marvels that take years, and in some cases even decades, to build. Exxon and Chevron changed strategy after oil prices plunged in 2014 and 2015, shifting billions of dollars of investment into shale deposits where wells can be drilled in a matter of weeks.
Exxon's oil and natural gas output surpassed expectations for the first time in 10 quarters, rebounding from the decade-low reached in the second quarter. It said Friday that earnings climbed to $6.2 billion, up 57 percent from a year earlier. At Chevron, record production combined with higher crude prices to double its profit to $4 billion.
After many disappointing quarters, Wall Street was pleased with Exxon. "Overall excellent cash generation," Paul Sankey, an analyst at Mizuho Securities USA LLC, said in a note to clients. "We think the company is on the right course under new CEO Darren Woods, but it is a long turning circle."
The results show that American and European energy majors are in a sweet spot, benefiting from four hard years of belt-tightening, shale investments and now higher oil and gas prices. Royal Dutch Shell Plc posted the biggest cash haul in a decade earlier this week, obliterating analyst's estimates, while BP Plc's earnings also surpassed expectations.
They are, however, taking different approaches to returning profits to investors. Shell increased its stock buyback by 25 percent to $2.5 billion over the next three months while BP decided to pay for its $10.5 billion purchase of BHP Billiton Ltd.'s U.S. onshore assets in cash rather than dilute shareholders through a rights issue.
Exxon meanwhile, has no plans for buybacks, focusing instead on steadily raising its dividend and investing in a raft of mega-projects from Guyana to Mozambique. Chevron Chief Financial Officer Pat Yarrington said the company would consider raising its buyback from its current level of $3 billion, which is deemed too conservative by some analysts, if oil prices stayed at current levels.
The Permian will remain a key focus for both companies over the next year, as their pipeline infrastructure and Gulf Coast refineries give them an advantage over rivals. Exxon is operating 38 rigs, the most of any operator in the basin and far above its previous year-end target of 30. Chevron, which inherited its 2.2 million-acre position in the Permian from its takeover of Texaco Inc. in 2001, is already a year ahead of its production target and sees further growth in coming months.
Exxon continues to prowl the Permian for acquisition opportunities, Senior Vice President Jack Williams said during a conference call with analysts and investors. Construction is under way on a 1 million-barrel-a-day pipeline to service booming crude output in the region while the company works to increase its ability to refine light Permian oil by 67 percent.
Exxon and Chevron cut debt during the quarter, while cash flow from operations -- a measure closely watched by investors -- surged. In fact, the explorers had enough cash around to cover investments and payouts to shareholders.
Exxon's turnaround in overall production will give investors confidence that management can deliver on promises. Senior Vice President Neil Chapman called the prior quarter "a low point," signaling improvement for the remainder of the year. Still, the challenge is whether the oil giant can stabilize output before mega-projects begin adding significant volumes around the middle of the next decade.
"Given last quarter's disappointment we find the solid cash flow print encouraging, and consistent with the other supermajors who have already reported," Biraj Borkhataria, a London-based analyst at RBC Capital Markets, said of Exxon.
Exxon closed 1.6 percent higher at $81.95 in New York while Chevron gained 3.2 percent to $114.73.
With assistance from Wesley Spagnoli. To contact the reporters on this story: Kevin Crowley in Houston at kcrowley1@bloomberg.net; Javier Blas in London at jblas3@bloomberg.net. To contact the editors responsible for this story: Simon Casey at scasey4@bloomberg.net Carlos Caminada.