Exxon Sparks IMF Concern With Weighty Returns in Tiny Guyana
by Bloomberg
|
Kevin Crowley
|
Monday, April 09, 2018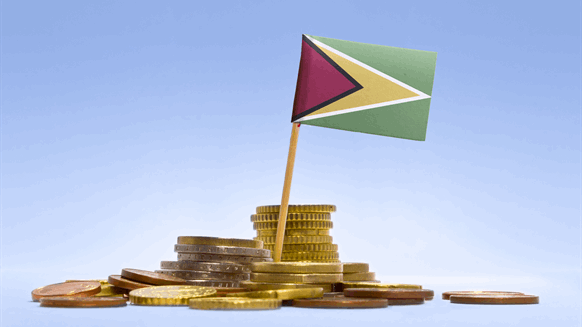 Exxon Mobil Corp. got such a "favorable" deal from Guyana, home to the biggest new deepwater oil play, that the tiny South American country should rewrite its tax laws, the International Monetary Fund said.
Cost Deductions
Open Oil, a Berlin-based company that advocates contract transparency, also found Guyana's share of the Stabroek was low compared with both established and early-stage producing countries. Guyana will receive 52 percent of positive cash flow over the life of Exxon's initial project, compared with between 63 percent and 72 percent for developments in Liberia, Mauritania, Ghana, Senegal and Papua New Guinea, it said in a March report.
The Exxon contract, which was published on a government website last year, provides Guyana with a 2 percent royalty on sales and 50 percent of profitable oil, once costs are repaid. Exxon and its partners can only deduct three-quarters of their costs each year, giving the government some cash in the first years of the project.
The IMF report recommends that Guyana:
employ a more progressive tax regime so that the government receives a higher share of profits as projects earn more consider eliminating interest expenses from the project's costs to avoid "abusive use of debt" introduce tighter ring fences to avoid costs being shared around multiple fields bulk up its regulatory capability
"We intend on implementing as many of the recommendations as possible," Trotman, the minister, said. In so far as the Exxon-led group's contract is concerned, "the government has no intention of revisiting it at this time. For future contracts we certainly will be having updated terms."
--With assistance from Ezra Fieser.To contact the reporter on this story: Kevin Crowley in Houston at kcrowley1@bloomberg.net To contact the editors responsible for this story: Reg Gale at rgale5@bloomberg.net Joe Carroll, Carlos Caminada
1
2
View Full Article
Generated by readers, the comments included herein do not reflect the views and opinions of Rigzone. All comments are subject to editorial review. Off-topic, inappropriate or insulting comments will be removed.