Eni Cuts Production Forecast, Sees 94 Percent Slump in Profit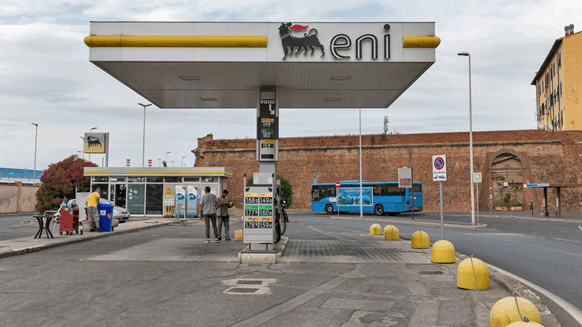 The bulk of the cuts --eighty percent-- will come from the exploration and production business.
(Bloomberg) -- Eni SpA reported a 94% drop in first-quarter profit and cut its production forecast for the year as demand is crushed by the coronavirus pandemic.
While the large decline in earnings reflects in part a high tax rate, it provides signals for the rest of the industry, with the worst impact of oil's historic plunge likely in the coming quarters. Investors are focused on how the companies handle one of the most turbulent periods in recent memory.
Eni's adjusted net income tumbled to 59 million euros ($63.5 million) in the quarter from 992 million euros a year earlier. It reduced its output forecast for this year to around 1.8 million barrels of oil equivalent a day from as much as 1.84 million previously, as a result of spending cuts and "pandemic effects."
The outlook is "disappointing," Biraj Borkhataria, an analyst at RBC Europe Ltd., said in a note. "We see the dividend more challenged than most peers at lower commodity prices."
Investors have questioned whether Eni can maintain its dividend, with its debt-to-equity ratio rising last quarter. Chief Executive Officer Claudio Descalzi provided no guidance on Friday, saying that Eni must first see the impact of spending cuts, and would give an update on the payout in July. Equinor ASA on Thursday became the first major oil company to cut its dividend amid the rout.
Oil producers are under immense pressure as the coronavirus decimates demand and drives prices to levels never seen before. Brent crude, the global benchmark, averaged $50.82 a barrel in the first three months of the year, 20% lower than a year earlier. It has since slumped to the lowest in 21 years, with New York prices even turning negative for the first time.
Deeper Cuts
Eni in March slashed spending plans and canceled a 400 million-euro share buyback. On Friday it deepened capital-expenditure cuts further, forecasting a reduction of 2.3 billion euros this year, shrinking the program by 30% from the original plan.
The bulk of the cuts -- 80% -- will come from the exploration and production business. There'll be cutbacks at oil fields in Iraq, oil and liquefied natural gas projects in Angola, and developments in Indonesia, Egypt and the United Arab Emirates. Deepwater-drilling plans will also be deferred as global supply chains are disrupted, Descalzi said on a conference call.
Eni has not yet been asked to reduce production in OPEC+ nations following an agreement between members earlier this month to cut output. It has a "contingency" of 40,000 barrels of oil equivalent a day to cover the potential for an OPEC-related cut, Descalzi said.
Eni shares initially fell on Friday, before recouping losses to trade little changed at 3:10 p.m. in Milan. The stock has declined 39% this year.
Refining Respite
The Italian major's refining and marketing business offered some respite, with the division almost tripling adjusted operating profit to 81 million euros. Nevertheless, the company saw fuel sales collapse in March as widespread lockdowns were put in place to prevent the spread of Covid-19. Eni expects refining margins to drop by 18% this year.
The chemical business, already under pressure before the pandemic took hold, also saw a decline in sales of petrochemical products.
The "critical phase" of Covid-19's impact will probably be over by the end of May, after which there will be a gradual recovery in consumption and a "normal situation by the end of the year," Descalzi said.
Eni is forecasting average Brent crude prices of $45 a barrel in 2020 and $55 next year. Brent futures are currently trading near $22 a barrel in London.
To contact the reporter on this story:
Laura Hurst in London at lhurst3@bloomberg.net
To contact the editors responsible for this story:
James Herron at jherron9@bloomberg.net
Amanda Jordan, Rakteem Katakey
Generated by readers, the comments included herein do not reflect the views and opinions of Rigzone. All comments are subject to editorial review. Off-topic, inappropriate or insulting comments will be removed.