Energy Bonds Trade Like Stocks as Wildcatters Get Religion
by Bloomberg
|
Claire Boston & Ryan Collins
|
Wednesday, December 06, 2017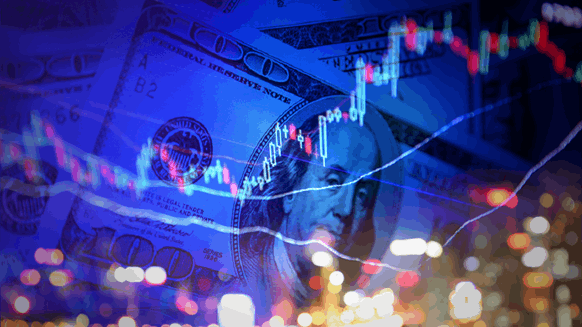 For the first time in months, energy bond and stock investors are both feeling good.
(Bloomberg) -- For the first time in months, energy bond and stock investors are both feeling good.
Correlation between energy debt and equity hit a year-to-date high in November, yet another sign that investors' confidence is returning to the sector. Energy junk bonds have increased 7.7 percent since their low point on June 22, when they took a dive as oil prices tumbled into the $40 range, according to the Bloomberg Barclays high-yield energy index. Equities are following suit: In the same period, the S&P 500 Energy Index has jumped more than 10 percent after falling almost 13 percent in the first half of the year.
The energy sector has turned a corner as drillers are beginning to show signs that they're kicking the old habit of relying on debt to fund expansion. Banks seem pleased with the companies, as many have maintained or extended lines of credit in recent weeks. The sector includes every facet of energy production and dissemination, from explorers to pipeline owners to refiners.
"Energy companies have taken a much more conservative stance on spending and talking a bit more about returns-focused investing," said David Deckelbaum, an analyst at KeyBanc Capital Markets Inc. That "would obviously play into the hands of high-yield investors that aren't looking for additional balance-sheet stress."
The turnaround involves more than just improving commodity prices, though that certainly has helped. With oil at $57 a barrel, most high-yield energy companies are generating enough cash to stay current on their obligations, which is a bondholder's primary concern, said Bloomberg Intelligence analyst Spencer Cutter.
The rosier outlook also helps boost companies' refinancing prospects, an important consideration for investors in an industry that has more than $48 billion of bonds coming due in 2018 and 2019.
"We're at this inflection point where if prices hold here, not every company is going to be in the clear, but it's certainly going to help the cash flow position out a lot," Cutter said.
Equities have taken a similar roller-coaster path this year. Chesapeake Energy Corp., for instance, has gained 11 percent since hitting its 2017 low on Oct. 26. Before that, the shares had dropped almost 50 percent since the end of 2016. Southwestern Energy Co. is in a similar position: After plunging 52 percent to its year-low on Oct. 26, the driller has jumped almost 18 percent.
As the junk-bond market recovers from an early November selloff, yields on high-yield energy bonds are falling. Speculative-grade energy notes yield an average of 6.3 percent, according to Bloomberg Barclays index data, down from 6.7 percent in mid-November.
'Extremely Attractive'
As yields fall, energy companies are finding success in the new-issue market. Continental Resources Inc. became the latest entrant to the market with a $1 billion offering Monday. It joins other issuers including Endeavor Energy Resources, NuStar Energy LP and Centennial Resource Development Inc. that have brought deals in recent weeks.
Drillers are also taking advantage of the upturn to refinance at "extremely attractive rates," Deckelbaum said. In one recent transaction, Concho Resources Inc. used some of the proceeds from an offering of 3.75 percent and 4.875 percent bonds to buy back notes that carried 5.5 percent coupons.
In the last few months, the market "started to see more and more people tap the high-yield markets, and coming out with a pretty positive outcome," Deckelbaum said.
Energy companies have sold more than $50 billion of high-yield bonds this year, making them the second most-active junk issuers, trailing only consumer-related companies, according to data compiled by Bloomberg.
To contact the reporters on this story: Ryan Collins in Houston at rcollins74@bloomberg.net; Claire Boston in New York at cboston6@bloomberg.net. To contact the editors responsible for this story: Reg Gale at rgale5@bloomberg.net Christine Buurma, Joe Carroll.
Generated by readers, the comments included herein do not reflect the views and opinions of Rigzone. All comments are subject to editorial review. Off-topic, inappropriate or insulting comments will be removed.