Crude Slips as Worries Soften Over North Sea Oil Pipeline Crack
by Bloomberg
|
Jessica Summers
|
Tuesday, December 12, 2017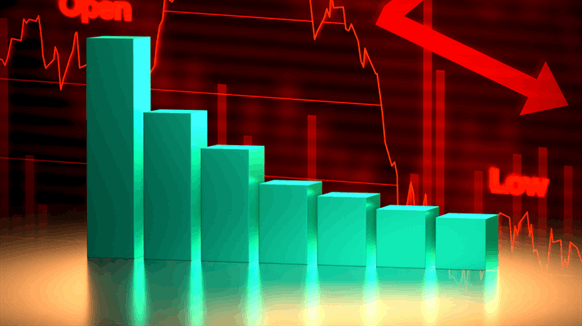 Fears subsided that a hairline crack in one of the world's most important oil pipelines would cause a major supply disruption.
(Bloomberg) -- Fears subsided that a hairline crack in one of the world's most important oil pipelines would cause a major supply disruption, stopping a crude rally in its tracks.
London oil prices slipped 2.1 percent from a two-year high and West Texas Intermediate also dropped in New York. The Forties Pipeline System that funnels North Sea oil to the U.K. mainland was shut on Monday after a crack was discovered, and repairs may take about two weeks. The International Energy Agency sought to calm jittery nerves, saying the oil market remains well supplied.
The short time span for the repair work "might be tempering the initial fears," Gene McGillian, a market research manager at Tradition Energy in Stamford, Connecticut, said by telephone.
Brent soared to levels last seen in June 2015 on Monday after news broke of the Forties outage. Prices had been trending higher on the strength of an agreement by the Organization of Petroleum Exporting Countries and allied producers such as Russia to extend supply cuts through all of next year. Still, the OPEC-led accord faces a threat from American shale drillers, whom government forecasters expect will boost output next year to more than 10 million barrels a day.
Brent for February delivery dropped $1.35 to settle at $63.34 a barrel on the London-based ICE Futures Europe exchange. The benchmark traded at a premium of $6.18 to February WTI after widening to $7.35 earlier in the session.
"Measurable Disruption"
WTI for January delivery declined 85 cents to end the session at $57.14 on the New York Mercantile Exchange. Total volume traded was about 30 percent above the 100-day average.
The supplies that flow through the Forties Pipeline System are the single largest constituent of so-called Dated Brent crude that is used to settle more than half of the world's physical oil prices. The pipeline shutdown forced Apache Corp. to suspend operations at its nearby Forties field.
The Forties outage is "a measurable disruption that the market can apparently cope with," Thomas Finlon, director of Energy Analytics Group LLC in Wellington, Florida, said by telephone. After the Brent-WTI spread widened to more than $7 a barrel, "the ability to cover shortfalls with U.S. crude is pretty easy."
In the U.S., crude stockpiles probably dropped by 2.89 million barrels last week, according to a Bloomberg survey prepared in advance of a government report scheduled for release on Wednesday. Inventories at the key pipeline hub in Cushing, Oklahoma, probably slid by 2.5 million barrels, a separate forecast compiled by Bloomberg showed.
The industry-funded American Petroleum Institute is scheduled to release its stockpile data on Tuesday.
Oil-market news:
Kuwait will start selling Super Light crude oil in April when production reaches 120,000 barrels a day, according to person with direct knowledge of the matter. ICE gasoil deliveries plunged to a nearly three-year low in December, according to ICE Futures Europe. Protesters in Nigeria's southern Niger River delta stopped work at three oil wells operated by Eni SpA's Nigerian unit, their representatives said.
With assistance from Ben Sharples and Grant Smith. To contact the reporter on this story: Jessica Summers in New York at jsummers24@bloomberg.net. To contact the editors responsible for this story: Reg Gale at rgale5@bloomberg.net Joe Carroll, Carlos Caminada.
Generated by readers, the comments included herein do not reflect the views and opinions of Rigzone. All comments are subject to editorial review. Off-topic, inappropriate or insulting comments will be removed.