Crude Oil Declines After Choppy Session
by Bloomberg
|
Andres Guerra Luz & Alex Longley
|
Thursday, January 21, 2021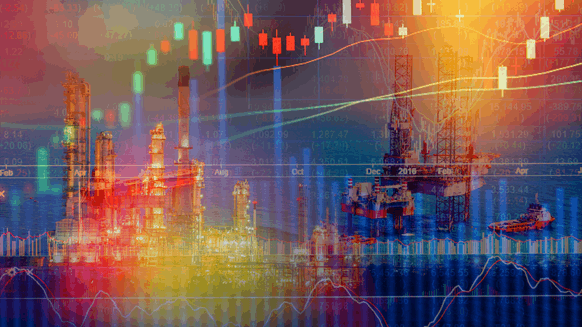 Oil ended a choppy session lower with worsening global coronavirus outbreaks accentuating concerns over a demand rebound.
(Bloomberg) -- Oil ended a choppy session lower with worsening global coronavirus outbreaks accentuating concerns over a demand rebound.
Futures closed 0.3% lower in New York on Thursday. The U.S. dollar declined for a fourth straight session, boosting the appeal of commodities priced in the currency and providing support to prices that had fallen as much as 1.1% during the session. Meanwhile, JPMorgan Chase & Co. cut demand estimates for China as lockdowns spread, and in the U.S., a vaccine supply shortage has led New York City to reschedule more than 20,000 appointments.
Still, U.S. benchmark crude's nearest contract settled at a premium to the following month for the first time since May. Brent's so-called prompt spread is also in a backwardation structure, indicating tighter supply.
"At these price levels, many people in the market are considering the downside risk," said Bart Melek, head of global commodity strategy at TD Securities. "We continue to have concerns the oil market may have gone a little too high given where demand is likely to go" in the near term.
Despite an uncertain short-term consumption outlook, crude is still trading near the highest level in almost a year as investors pile into commodities and global inventories are seen depleting as the year goes on. There's been a boost to energy use from cold weather, while Saudi Arabia's unilateral output cuts and a weak dollar have also buoyed the market.
"Long-term oriented investors have used set-backs to add exposure to assets which benefit in a post-Covid world," said Giovanni Staunovo, an analyst at UBS Group AG. "Despite still rising cases and new mobility restrictions, petroleum inventories have kept falling, indicating that the oil market remains undersupplied."
In the U.S., while the industry-funded American Petroleum Institute reported that crude, gasoline and distillate inventories rose last week, it also showed a decline in inventories of more than 4 million barrels at the nation's largest storage hub at Cushing, Oklahoma.
Prices
West Texas Intermediate for March delivery fell 18 cents to settle at $53.13 a barrel
Brent for March settlement rose 2 cents to end the session at $56.10 a barrel
Meanwhile, the recovery in oil refining margins won't likely persist, JBC Energy said in a note. While margins are still "barely workable," crude runs worldwide have been trending above what would be needed to meet demand, according to the note. In Europe, air traffic has edged lower as the pandemic continues to stymie the aviation sector, according to a report from Eurocontrol. A seven-day rolling average shows air traffic was 64.8% below 2019 levels, compared to 61.4% last week.
Other oil-market news
Saudi Arabian Oil Co. has been excluding most refineries and chemical plants from its carbon disclosures to investors, even as executives emphasized in the run-up to an IPO in 2019 that drilling Saudi oil generates fewer planet-warming emissions than other producers.
Libya is seeking funding from foreign oil companies to fix its ailing infrastructure after years of war and neglect, the nation's top energy official said.
TC Energy Corp. has let go 1,000 workers in both the U.S. and Canada after President Joe Biden canceled the Keystone XL oil pipeline project.
Rich Glick, one of two Democrats on the U.S. Federal Energy Regulatory Commission, has been tapped by Biden to lead the agency set to play a pivotal role in the president's goal to achieve a 100% clean grid by 2035.
© 2021 Bloomberg L.P.