Crisis-Hit Venezuela's Oil Output Plummets In 2017 To Decades Low
by Reuters
|
Marianna Parraga & Alexandra Ulmer
|
Thursday, January 18, 2018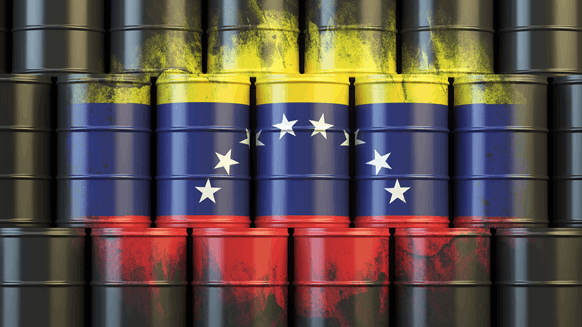 Venezuela's crude oil production fell nearly 13% last year, according to figures released by OPEC.
Venezuela's new oil czar, former housing minister General Manuel Quevedo, has vowed that output will rise to more than 2.4 million bpd this year. But Quevedo, who has no experience in the energy sector, has yet to provide a detailed plan.
January has seen an unprecedented surge in resignations, spurred by dislike of the new management and salaries that often do not allow workers to eat properly, current and former PDVSA employees say.
"They're desperate to maintain production. Increasing it is too difficult. Internal conditions are devastating," said one PDVSA employee, who asked to remain anonymous, referring to Quevedo's output recovery plan.
Still, the most vulnerable oilfields have already clocked the sharpest drops, according to Monaldi, which could limit this year's decline. He forecasts production to fall another 250,000 bpd-350,000 bpd in 2018, starting from December's average.
Control Risks and Oxford Economics forecast a 470,000-bpd fall as PDVSA's unexperienced management struggle to reverse low investment, cronyism, lack of payment, and equipment theft.
Oil consultancy Energy Aspects expects a drop of at least 200,000 bpd in 2018, helping to balance an oversupplied global oil market.
"Underperformance by Venezuela helps OPEC to reach its overall (production cut) target quicker for sure. Once balance is achieved, they will taper the cuts," Amrita Sen, co-founder of Energy Aspects, told Reuters.
A further production fall could also push cash-strapped Venezuela into full default, which experts say would be one of the largest and messiest credit events in history. Maduro has said Venezuela is willing to restructure its foreign debt, including some $60 billion in bonds issued by PDVSA and the government, but the country has been late with bond payments in the last few months.
As Venezuela is still making efforts to pay, holders of some of the world's highest yielding debt bonds have so far been tolerant of the delays, but that could change if Venezuela is perceived to no longer have enough income to pay.
(Reporting by Marianna Parraga in Houston and and Alexandra Ulmer in Caracas; Editing by Andrew Hay and Marguerita Choy)
1
2
View Full Article
Generated by readers, the comments included herein do not reflect the views and opinions of Rigzone. All comments are subject to editorial review. Off-topic, inappropriate or insulting comments will be removed.