Could AMLO Cancel Mexico Energy Reform?
by Bloomberg
|
Lorena Rios & Michael O'Boyle
|
Friday, July 24, 2020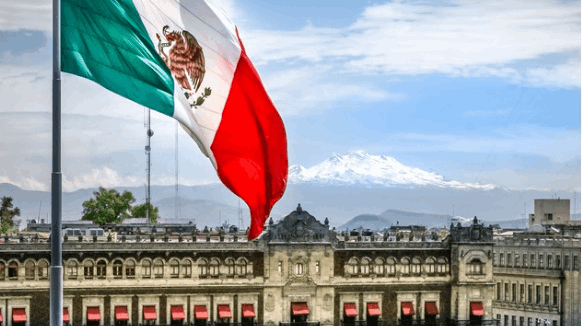 With a corruption scandal spreading to the energy reform, some political analysts say Mexico's president could decide to further disrupt or even cancel the implementation of that legal overhaul.
(Bloomberg) -- A former head of Mexico's state oil giant Petroleos Mexicanos is testifying that lawmakers were bribed to pass a 2014 reform that opened the energy sector to private investment, President Andres Manuel Lopez Obrador said on Friday.
Lopez Obrador said that Emilio Lozoya, who was extradited from Spain this month to face corruption charges in Mexico, is shining light on how money was distributed to legislators.
"It will be very important to find out how much and to whom," the president, known as AMLO, said in his morning press conference.
Lopez Obrador has attacked the energy reform as a failure and halted auctions of oil blocks, focusing instead on trying to revive the heavily-indebted state oil company, known as Pemex. The corruption case may also boost his ruling party's campaign ahead of mid-term elections next year.
Daily Reforma named members of the country's conservative National Action Party, or PAN, who had allegedly received bribes.
The PAN responded in a statement saying it had long supported opening the energy sector and that the accusations were being used as propaganda to damage its standing.
"Whoever accuses is obligated to prove it," the PAN said. "So far, it's just words from a suspected criminal who could accuse adversaries of the federal government in order to ease his legal situation."
With the corruption scandal spreading to the energy reform, some political analysts say Lopez Obrador could decide to further disrupt the implementation of that legal overhaul, or even try to cancel it outright.
If there's a generalized perception that lawmakers took bribes, "that's enough for him to argue that his state-driven plans for the sector are needed, stopping any further opening," said Carlos Petersen, an analyst at Eurasia Group.
Jorge Castaneda, a former Mexican foreign minister, said that overturning the reform may be an option for Lopez Obrador if he were to "fare well enough in next year's midterm elections to change the constitution."
AMLO's administration has challenged some private energy contracts and has made regulatory changes that business groups say are undermining private energy investment. But the president has said in the past that he wouldn't seek to repeal the reform.
"Even if the energy reform isn't canceled, the new scenario provides additional bargaining power for more reforms in Congress," said Eduardo Bohorquez, head of watchdog group Transparencia Mexicana. "The opposition is going to be almost entirely focused on the internal consequences for their political parties, rather than playing an effective legislative role in Congress."
To contact the reporters on this story:
Lorena Rios in Mexico City at lriost@bloomberg.net;
Michael O'Boyle in Mexico City at moboyle7@bloomberg.net
1
2
View Full Article
Generated by readers, the comments included herein do not reflect the views and opinions of Rigzone. All comments are subject to editorial review. Off-topic, inappropriate or insulting comments will be removed.