Chevron Surprises with Q4 Loss
by Bloomberg
|
Kevin Crowley
|
Friday, January 29, 2021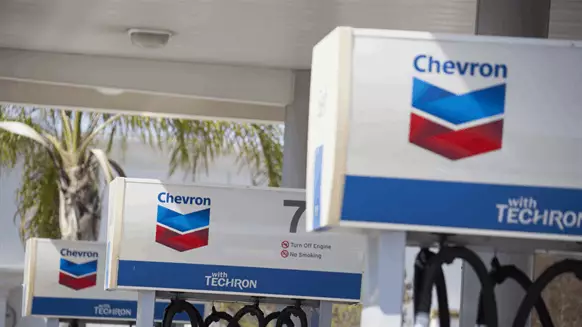 The company lost a penny per share during the fourth quarter, compared with the Bloomberg Consensus for a 7-cent profit.
(Bloomberg) -- Chevron Corp. surprised analysts with a fourth-quarter loss as weak fuel demand slammed its refining business and the company incurred hefty charges from its takeover of Noble Energy Inc.
The California oil titan lost a penny per share during the fourth quarter, compared with the Bloomberg Consensus for a 7-cent profit. Oil and natural gas production rebounded from the lowest in more than two years as the explorer assimilated fields acquired in the Noble deal and restarted wells briefly curtailed during last year's crude-price collapse. Chevron was the worst-performing oil driller in the S&P 500 Index on Friday.
In a harbinger for the rest of the oil industry, Chevron's results evince the challenges facing energy producers battered by 2020's pandemic-driven collapse in demand and prices. With commodity markets staging a broad rebound, the world's biggest oil drillers can begin to wean themselves off debt and seek to rebuild their reputations with investors.
"We'll see a recovery in the upstream that's going to happen a little bit before the downstream," Chief Financial Officer Pierre Breber said during a Bloomberg TV interview. Though uncertainty remains, the second half of this year "looks more like normal."
Low crude prices and $338 million in losses from Chevron's global network of refineries wiped out most of the gains from harvesting oil and gas during the quarter. Crude input at its U.S. refineries dropped by 17% in response to fewer orders for jet fuel, diesel and gasoline.
Overall customer demand for refined products is only down 5% but it's "the price setting 5%," Breber said, meaning it has an outsized impact on earnings. "We'll need to see the vaccines come in, return to a lot of the discretionary activity we're not doing" before demand fully recovers, he said.
Charges related to the Noble deal totaled $120 million and pension costs also increased. Chevron was down 2.5% to $86.82 as of 10:55 a.m. in New York.
"Earnings missed on weak downstream performance," Jason Gabelman, an analyst at Cowen Inc., said in a note. "Working capital was a large headwind, though offset by higher asset sales proceeds and smaller other investing outflows."
While the worst may be over for Big Oil, the scars of last year's crisis will last for a long time. Chevron aggressively cut capital spending to $13.5 billion last year but that was still in excess of its $10.6 billion in cash flow. That meant borrowing more to protect dividends, contributing to a 64% increase in debt to $44.3 billion. To be sure, half of the rise in borrowing came from the Noble acquisition.
With crude up 13% since the first vaccines were approved in early November and economic optimism rising, industry management teams will be pressed by analysts and investors about their plans for deploying extra cash flow. Chevron has been touted as a potential buyer of rivals but it also has the option of reviving the ambitious Permian Basin drilling program it was forced to curb when oil cratered in 2020.
Breber said the company will wait until the pandemic is in the rearview mirror and OPEC and its allies have brought back some curtailed supply before resuming heavy investment in the Permian region.
© 2021 Bloomberg L.P.
Generated by readers, the comments included herein do not reflect the views and opinions of Rigzone. All comments are subject to editorial review. Off-topic, inappropriate or insulting comments will be removed.