Cheniere Faces Ruling on Gas Leak US Sees as 'Serious Hazard'
by Bloomberg
|
Ryan Collins & Naureen S. Malik
|
Friday, March 23, 2018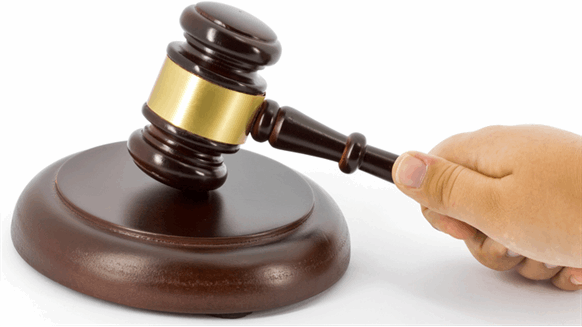 America's first exporter of LNG from shale is awaiting a federal ruling on whether it can restart storage tanks it was forced to shut after a leak.
(Bloomberg) -- America's first exporter of liquefied natural gas from shale is awaiting a federal ruling on whether it can restart storage tanks it was forced to shut after a leak.
Regulators ordered Cheniere Energy Inc. to take two of the five tanks at its Sabine Pass LNG export terminal in Louisiana out of service last month, citing a potentially "serious hazard to people and property" from a gas release discovered in late January. The agency may decide next week whether Cheniere can bring the tanks back online.
Since shipping the first cargo from Sabine Pass in 2016, Cheniere has been a key player in America's march toward becoming a major global LNG supplier to rival Qatar and Australia. Though gas flows to Sabine Pass -- one of only two operating U.S. export terminals -- have remained fairly stable, that could change if regulators force additional tanks to shut. That's a possibility Cheniere sees as remote.
"There was no discussion" at a regulatory hearing in Houston on Wednesday of "broadening the scope to other tanks being shut," Cheniere spokesman Eben Burnham-Snyder said in an email Thursday. The shutdown of the two tanks has no impact on production, he said.
During a hearing held in Houston on Wednesday, Cheniere argued that the gas release posed no public threat and that any leak could be contained on-site without affecting waterways and highways.
The tank shutdown at Sabine Pass has "limited their available storage capacity, but we have not yet seen an impact on liquefaction or exports," Hannah Burk, director of proprietary natural gas products with Genscape Inc. in Boulder, Colorado, said via email. But if extreme weather prevents ships from leaving the terminal, storage limits could be stretched, she said.
A report from the manufacturer, Tulsa based Matrix Service Co., showed almost a dozen instances of gas leaking from one Sabine Pass tank into the space between its inner and outer walls between 2008 and 2016, the Pipeline and Hazardous Materials Safety Administration said. Such incidents can create cracks that would allow the gas to escape into the atmosphere.
Though two tanks have been removed from service at Sabine Pass, a third made by Matrix remains in operation. Another two were made by a different manufacturer. All five tanks at Sabine Pass were designed by Mitsubishi Heavy Industries Ltd.
Representatives from Matrix and Mitsubishi didn't immediately respond to requests for comment.
Though the U.S. gas market hasn't been roiled by the Sabine Pass tank shutdowns, "it should be if it leads to a shut-in" of LNG production, said Bob Yawger, director of futures division for Mizuho Securities USA. "It would be a disaster."
To contact the reporters on this story: Naureen S. Malik in New York at nmalik28@bloomberg.net; Ryan Collins in Houston at rcollins74@bloomberg.net. To contact the editors responsible for this story: Reg Gale at rgale5@bloomberg.net Christine Buurma.
Generated by readers, the comments included herein do not reflect the views and opinions of Rigzone. All comments are subject to editorial review. Off-topic, inappropriate or insulting comments will be removed.
RELATED COMPANIES