Canada's Plan to Cut Oil Output Boosts Crude, Stocks
by Bloomberg
|
Kevin Orland
|
Monday, December 03, 2018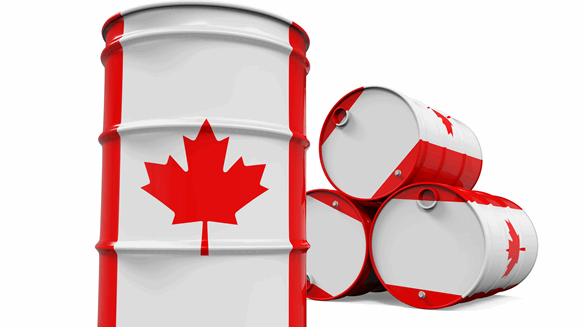 Alberta's announcement that it will cut oil production next year to bolster prices sent crude soaring and boosted shares of Canadian producers.
(Bloomberg) -- Alberta's announcement that it will cut oil production next year to bolster prices sent crude soaring and boosted shares of Canadian producers.
The unprecedented move by the country's largest oil-producing province is aimed at easing the crisis in the nation's energy industry. The plan announced on Sunday will lower production of raw crude and bitumen from Alberta by 325,000 barrels a day, or 8.7 percent, from January until excess oil in storage is drawn down. The reduction would then drop to 95,000 barrels a day until the end of next year at the latest.
The discount of Western Canadian Select crude to U.S. benchmark West Texas Intermediate oil narrowed $9.25 to $19.75 a barrel as of 10:11 a.m. New York time Monday, the tightest it's been since July, data compiled by Bloomberg showed. WTI itself climbed as much as 5.7 percent, the biggest intraday gain since June, to $53.85 a barrel. Shares of oil producers operating in Alberta also surged, while there were declines for refining companies who had benefited from supplies of cheap crude.
The planned cuts by the world's fifth-biggest producer follows a renewed commitment over the weekend by Saudi Arabia and Russia to extend their deal to manage the oil market. Global prices crashed last month by the most in more than a decade, a plunge that battered producers in Alberta in particular amid surging oil-sands output, a shortage of pipeline space and heavy U.S. refinery maintenance.
Alberta Premier Rachel Notley is following the advice of producers like Cenovus Energy Inc. and Canadian Natural Resources Ltd., which have been hammered by record low prices for heavy Canadian crude, which at one point were $50 a barrel less than U.S. grades. The crisis has caused some producers to reduce production on their own, slash dividends and delay next year's drilling plans.
"Every Albertan owns the energy resources in the ground, and we have a duty to defend those resources," Notley said in a statement. "But right now, they're being sold for pennies on the dollar. We must act immediately, and we must do it together."
The amount being cut is more than the total production of each of OPEC's three smallest members: Equatorial Guinea, Gabon and the Republic of Congo.
The curtailment plan, which will apply to both oil-sands and conventional producers, should narrow the discount between Western Canada Select and U.S. benchmark oil by at least $4 a barrel and add an estimated C$1.1 billion ($840 million) in government revenue in the fiscal year starting April 2019, according to the statement.
The measure could be removed earlier than the end of 2019, based on market conditions, the government said. The province expects the 325,000-barrel-a-day reduction to be in place for the first three months, while storage is drawn down to historical levels. After that, the government will work to match capacity with production. Further reductions in the curtailment are expected in the fall and winter as additional rail capacity comes online.
Calgary-based Cenovus climbed as much as 13 percent in Toronto and Canadian Natural Resources gained 16 percent, while Devon Energy Corp., a U.S. oil company with a presence in Alberta, rose as much as 8 percent in New York. Among refiners, HollyFrontier Corp. dropped as much as 6.3 percent in New York and Imperial Oil Ltd. declined 4.4 percent in Toronto.
Save Jobs
The action is designed to prevent job cuts by letting companies keep people on because they can "see a light at the end of the tunnel," Notley said at a news conference. Small producer Whitecap Resources Inc. now doesn't plan to cut any jobs as a result of the Alberta plan, Chief Executive Officer Grant Fagerheim said in an interview.
"Government intervention is never the preferred route, but because of the crisis that's taken place in Alberta and Canada, we can understand that this is the route taken," Fagerheim said. His company will have to cut about 350 barrels a day from its current level of 14,000.
To protect smaller drillers, the first 10,000 barrels of a producer's output will be exempted from the cut. Each company's level of curtailment will be based on six months of its highest level of production over the past 12 months, according to the statement. The province expects the curtailment to affect about 25 producers.
Historical Move
The plan marks the first time the provincial government has ordered a production cut since the 1980s, and that previous move was meant to protest federal energy policies, not solely to boost prices.
1
2
View Full Article
Generated by readers, the comments included herein do not reflect the views and opinions of Rigzone. All comments are subject to editorial review. Off-topic, inappropriate or insulting comments will be removed.